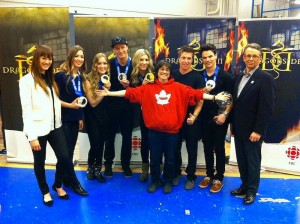 By Robert Frank
www.newscoverage.org
Seven athletes, including new Montreal West residents the Dufour-Lapointe sisters, will make a pitch on Dragon's Den tonight. If they succeed, it could be a big boon to Canadian athletes who are starved of resources.
"It came to me on the flight home from Sochi," smiled Sandy Wolofsky, who spearheaded publicity for Canada's freestyle skiers durng last year's Winter Olympics in Russia.
"We were the world's most successful freestyle ski team and the most successful sports federation in the Canadian Olympic Association, but we had no sponsorships," recalled Wolofsky, The Suburban's former Moscow correspondent, who witnessed and reported on the Soviet Union's 1992 collapse.
"Canadian Freestyle Skiing's ceo, Peter Judge, said go for it," she said of the Dragon's Den project. "He believed in me and said 'It's your ship. Run it.' So I did."
"The pitch entails working in partnership," Wolofsky explained. "We're offering the world's best athletes: Appearances in exchange for cooperation. Wearing your logo on our clothing, which will be seen everywhere."
"Besides the exposure," she added, "we invited them to become part of the world of healthy, outdoorsy, hip youth and to be seen in the light of the coolness of their modern-day life. "If it works, it could represent a sea change in Canadian amateur sport."
Wolofsky credited her initiative to her experience in Russia, "where you have to learn how to deal and to fight and to stick to your convictions when you know that something is good and right."
"It taught me how to how to accomplish something despite the many obstacles in your way, through sheer, full-momentum tenacity," she explained.
To find out how the athletes fared on Dragon Den, you'll have to tune in tonight.
(function(i,s,o,g,r,a,m){i['GoogleAnalyticsObject']=r;i[r]=i[r]||function(){
(i[r].q=i[r].q||[]).push(arguments)},i[r].l=1*new Date();a=s.createElement(o),
m=s.getElementsByTagName(o)[0];a.async=1;a.src=g;m.parentNode.insertBefore(a,m)
})(window,document,'script','//www.google-analytics.com/analytics.js','ga');
ga('create', 'UA-45892555-1', 'auto');
ga('send', 'pageview');