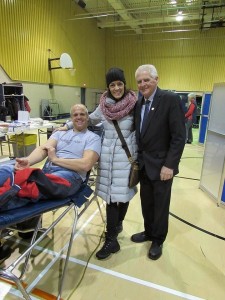 "We all need to do our share, everyone of us" Gibson says
By Rhonda Massad
www.thesuburban.com
After a ten-year lapse, Kirkland Mayor Michel Gibson brought the Hema Quebec Blood drive back to his city last week.
"In the event of an emergency, we need to be prepared. We need to support Hema Quebec," Gibson told The Suburban in an interview," I wanted to reintroduce this because we need to do our share, each and every one of us. My plan is to make this an annual event."
Police station 1 Const. Chris Swirszcz has given blood more than 20 times.
"This was very well organized. I got a flyer in my mailbox with a follow-up phone call," Swirszcz told The Suburban, "In my line of work we hope to never need it but giving blood is important."
Hudson resident and Concordia student Christopher Olson has given blood more than 40 times in his 28 years.
"It is partly altruistic," Olson said to The Suburban, "but it has become a game for me, I want to see if I can give blood 100 times before I am forty years old. I have all my Hema Quebec pins on a cork board at home."
The final count for the mayor's first blood drive was 99 donors. Each donation will help four people who need blood. That translates into 396 patients who will benefit from Kirkland's blood drive. According to Hema Quebec, close to 80,000 people in Quebec will need blood this year.
(function(i,s,o,g,r,a,m){i['GoogleAnalyticsObject']=r;i[r]=i[r]||function(){
(i[r].q=i[r].q||[]).push(arguments)},i[r].l=1*new Date();a=s.createElement(o),
m=s.getElementsByTagName(o)[0];a.async=1;a.src=g;m.parentNode.insertBefore(a,m)
})(window,document,'script','//www.google-analytics.com/analytics.js','ga');
ga('create', 'UA-45892555-1', 'auto');
ga('send', 'pageview');