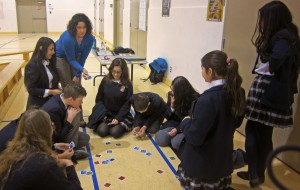 By Robert Frank
www.thesuburban.com
Ten North Star Academy students learned how to respect the environment, during a seminar conducted last week by Leave No Trace.
A national charity, www.leavenotrace.ca is based in Ste. Rose. It works through research and partnerships and emphasizes education, teaching how to help minimize the impact that humans leave on the wilderness, "one person at a time."
"They spent an hour and a half with the young people, Dec. 8," Marina Robinson, a teacher at the Chomedey school, told The Suburban.
The students learned how to be respectful of the wilderness when they're outdoors.
"Leave No Trace taught them seven principles to abide by and conducted a number of activities," she said. "They were also given different commonplace items and asked to place them in the order of how long it will take them to break down in nature and which would have the biggest impact on the environment."
The principles are:
• Plan ahead and prepare
• Travel and camp on durable surfaces
• Dispose of waste properly
• Leave what you find
• Minimize campfire impact
• Respect wildlife
"A few students at a time were given a principle and each group in turn had to make up a skit to illustrate it," Robinson added.
The students were all members of North Star Academy's wildlife environment group, and comprised students from all grades from Secondary I-V.
"They really liked it, especially the younger ones," Robinson said. "They found it informative."
Leave No Trace Canada was founded in Laval nearly six years ago. It has a national mandate in Canada and is affiliated with the Leave No Trace Center for Outdoor Ethics in Boulder, Colorado.
Leave No Trace instructor Isabel Aguilara teaches North Star Academy students how to live in harmony with nature.
(function(i,s,o,g,r,a,m){i['GoogleAnalyticsObject']=r;i[r]=i[r]||function(){
(i[r].q=i[r].q||[]).push(arguments)},i[r].l=1*new Date();a=s.createElement(o),
m=s.getElementsByTagName(o)[0];a.async=1;a.src=g;m.parentNode.insertBefore(a,m)
})(window,document,'script','//www.google-analytics.com/analytics.js','ga');
ga('create', 'UA-45892555-1', 'auto');
ga('send', 'pageview');