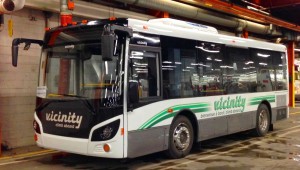 By Robert Frank
www.thesuburban.com
Don't be surprised if you see a half-size bus plying Laval streets this week. Société de transport de Laval (STL) is testing a 27.5 ft motor coach to see whether it is suited for local use.
"The bus is a Vicinity model, manufactured by Grande West Transportation," explained STL chairman David de Cotis. "It accommodates 23 people and is relatively spacious."
He told The Suburban that the city's public transit authority wants to find out whether using smaller buses might be more efficient for some routes.
"Right now, STL's 40-foot buses go around Laval half-empty at times," said de Cotis, who also city councilor for St. Bruno district and serves as vice-chairman of the city's powerful executive committee.
"Besides permitting us to offer better service, the smaller buses consume less fuel and therefore emit less pollution and cost less to acquire and operate than bigger busses," he observed. "We also have to consider that he average lifespan of the larger buses is 15-20 years, though. For the smaller buses, the average lifespan is usually 7-10 years. So it remains to be seen whether they will work for Laval."
One uncontestable bit of good news for commuters who get to take the new bus during the tryout: riding it will be free-of-charge until mid-December, de Cotis said.
STL plans to test a fuel-saving 23-passenger, half-size bus this week.
(function(i,s,o,g,r,a,m){i['GoogleAnalyticsObject']=r;i[r]=i[r]||function(){
(i[r].q=i[r].q||[]).push(arguments)},i[r].l=1*new Date();a=s.createElement(o),
m=s.getElementsByTagName(o)[0];a.async=1;a.src=g;m.parentNode.insertBefore(a,m)
})(window,document,'script','//www.google-analytics.com/analytics.js','ga');
ga('create', 'UA-45892555-1', 'auto');
ga('send', 'pageview');