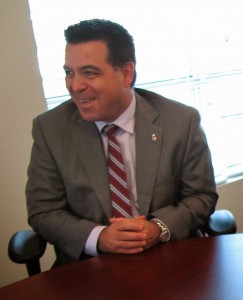 By Robert Frank
www.thesuburban.com
The city announced last week that it will assume direct control of its economic development dynamo, Laval Technopole, on New Year's Day.
The para-public organization has long helped to make Laval a magnet for capital investment and head-offices. Until now, it has operated at arm's length from the city.
"As of Jan. 1, Laval Technopole employees will become City of Laval employees," Laval executive committee vice-chairman David De Cotis told The Suburban.
In July, the Institute for Governance of Private and Public Organizations (IGOPP) had urged Laval to divide Technopole in two and restrict it to administering capital investment funds for local business.
It recommended that Technopole's staff of 44 be trimmed to 18, with the remaining employees transferred to the municipal bureaucracy as part of a yet-to-be-created city economic development department that would be assigned to attract investment and cut red tape.
"They will remain in the same offices and no one will be losing any employment," De Cotis reassured in an interview.
"We wanted to make the machine more effective efficient," he explained. "By having [Technopole] in-house, departments will be able to speak to one another. It's more transparent."
"There will now be one assistant director to manage the operation," De Cotis continued, though he declined to specify who will be at the helm. "The fine print, we don't have it yet. We have the global vision, but the details have not yet been established."
De Cotis stuck to his prediction that Laval will again outpace the Quebec economy this year.
In August, he told The Suburban that he expects capital investment to hit $1.1 billion in Quebec's third-largest city in 2014.
"[Technopole vice-president] Gilbert Leblanc is still predicting $1.1 billion for 2014," De Cotis reiterated.
Much of that investment is by small- and medium-sized firms—the kind of companies that Technopole has long fostered—innovative enterprises which continue to generate most Quebec's economic growth and create most of the new jobs for the province's under-employed workforce.
De Cotis acknowledged that another city initiative, his appeal this summer to the federal government to preserve Mirabel airport, has since fallen through.
"No one will be losing any employment," Laval executive committee vice-chairman David de Cotis told The Suburban.
(Photo © Robert Frank)

(function(i,s,o,g,r,a,m){i['GoogleAnalyticsObject']=r;i[r]=i[r]||function(){
(i[r].q=i[r].q||[]).push(arguments)},i[r].l=1*new Date();a=s.createElement(o),
m=s.getElementsByTagName(o)[0];a.async=1;a.src=g;m.parentNode.insertBefore(a,m)
})(window,document,'script','//www.google-analytics.com/analytics.js','ga');
ga('create', 'UA-45892555-1', 'auto');
ga('send', 'pageview');