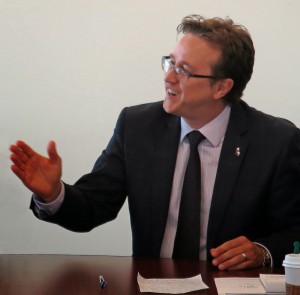 By Robert Frank
www.thesuburban.com
More than 500 Laval residents shared their views for their city's future, during a series of six public consultation sessions, which wrapped up last week on Nov. 12.
"We asked everyone what they would like Laval to be like in 2035," Councillor Paolo Galati told The Suburban.
In 2015, Laval plans to table a new strategic vision that it has dubbed Rethink Laval.
"We intend to use what citizens have told us to develop the plan for the city," vowed Galati, who moderated the discussion at Théâtre Marcelin Champagnat in his home district of St. Vincent du Paul, Nov.11."Our approach is to rely on citizen participation and input from experts. We want them to share their ideas. The objective is to see the people of Laval reclaim their environment."
Galati said that citizens talked about park development, bicycle paths, woodlands, the revitalization of existing neigbourhoods and proposed a number of projects.
"A consulting firm is now taking all of those recommendations and incorporating them into a coherent strategic vision," he explained.
"The elected officials went through the same process with blue- and white-collar municipal staff here in Laval," Galati added. "First we did it internally, then we went out to consult all Laval citizens. It's a commitment to democratic consultation and participation that hitherto hadn't existed in Laval."
"More than 100 people showed up at the consultation that I moderated. They were really excited to be able to partake in shaping the vision for Laval. It's our city, as opposed to just having administration officials or elected representatives decide to do whatever they want," he concluded. "We really felt a sense of belonging."
Councilor Paolo Galati hosted hearing in his St. Vincent de Paul district last week.
(Photo © Robert Frank)
(function(i,s,o,g,r,a,m){i['GoogleAnalyticsObject']=r;i[r]=i[r]||function(){
(i[r].q=i[r].q||[]).push(arguments)},i[r].l=1*new Date();a=s.createElement(o),
m=s.getElementsByTagName(o)[0];a.async=1;a.src=g;m.parentNode.insertBefore(a,m)
})(window,document,'script','//www.google-analytics.com/analytics.js','ga');
ga('create', 'UA-45892555-1', 'auto');
ga('send', 'pageview');