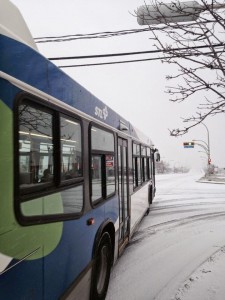 By Robert Frank
www.thesuburban.com
Buses were scarce while winter's first snowfall blanketed Laval on Sunday morning, while city bus drivers booked off to vote on their new labour agreement.
"The drivers went to cast their ballot starting at 9:30 a.m.," Société des transports de Laval (STL) spokeswoman Marie-Céline Bourgault told The Suburban.
She added that the drivers returned to work later in the day. In the meantime, STL management sprung into high-gear to minimize disruption for weekend commuters. Sunday is the slowest day of the week for the public transit authority, she confirmed.
"We've assigned supervisors to patrol the city on the lookout for people who are stranded," Bourgault said in an interview. "We also have an agreement with COOP Taxi to supplement our regular service. Thirty cabs circulate in the city. On the main routes, they line up to pick up [STL] clients."
"If residents who called our customer contact line and asked for service, our agents could ask for a taxi to pick up the people who had been expecting a bus," she continued. "Their cars are identified by a sticker."
Là !
The brief service interruption came amid STL's campaign to heighten awareness of public transit options.
City signs, billboards and social media have been blanketed by a simple, one-word slogan: Là !
"It means 'we're here'," Laval executive committee vice-chairman David De Cotis told
The Suburban.
"We wanted a twist: something different to make more people aware that we exist, rather than a dull slogan. The first two weeks after I joined the board of directors, no one knew that there was an STL. Now the image is everywhere on billboards."
"We don't have a specific objective in terms of ridership, but we are encouraging people to switch to public transit alternatives, and will be monitoring to see how many people we have reached," he concluded.
(function(i,s,o,g,r,a,m){i['GoogleAnalyticsObject']=r;i[r]=i[r]||function(){
(i[r].q=i[r].q||[]).push(arguments)},i[r].l=1*new Date();a=s.createElement(o),
m=s.getElementsByTagName(o)[0];a.async=1;a.src=g;m.parentNode.insertBefore(a,m)
})(window,document,'script','//www.google-analytics.com/analytics.js','ga');
ga('create', 'UA-45892555-1', 'auto');
ga('send', 'pageview');
Time to go vote