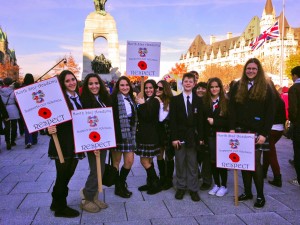 Teens set example at national memorial
By Robert Frank
www.thesuburban.com
Cancel our Remembrance Day trip? No way, 15 brave North Star Academy (NSA) students told their teachers, after the terror attacks initially led the high school to kibosh their Nov. 11 trip to Ottawa.
"Our history teacher wanted to take our students to the National War Memorial in Ottawa, to mark the 100th anniversary of the outset of World War I," NSA principal Josée Pépin told The Suburban. "It was to be our first trip there. We cancelled it, though, after the soldiers were killed in St. Jean sur Richelieu and Ottawa."
"Our students came to us afterward and told us that they wanted to take a stand," she said in an interview. "They persuaded us that there was no better way than to lead by example and go. So we did."
The school reversed its position and the students' parents also supported their children. They signed fresh waivers to acknowledge that they understood and accepted the potential risk that the trip now entailed.
"Our students are Catholic, Muslim, Protestant and Orthodox, but they all went there together with a single vision: We love Canada and we will stand by our country," Pépin said.
She added that security was tight for the ceremony with at three to four observers and snipers atop at least six buildings, which included a low-level flypast by Royal Canadian Air Force CF-18 jets, each student left their poppy on the tomb of the Unknown Soldier to honour our fallen soldiers.
"What we saw brought home the reality," Pépin concluded. "It gave us the chills to sense what war might be like. One of our students said 'it's remarkable how 50,000 people can remain silent all at once and that we can be united as a country."
Fifteen fearless teens told teachers to take them to National War Memorial ceremony, Nov. 11. Among them were (left to right) Bianca Garabedian, Safaa Seddougui, Emmy Desormeaux, Salwa Seddougui, Jordan Rickard-Guerber, Kyle Anderson, Aiden Wagner (behind Kyle), Alex Batista, Samantha St. Pierre and Jessica Tiramani.