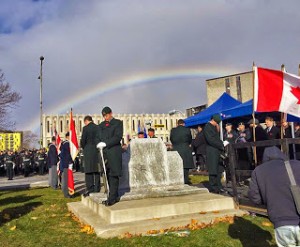 By Robert Frank
www.thesuburban.com
Laval residents turned out in force at the cenotaph outside city hall, Nov. 9, to remember the sacrifice of its soldiers, sailors and aviators.
Quebec Family Minister and Minister for Laval Francine Charbonneau led a five-member provincial contingent to the city's Remembrance Day ceremonies on Sunday.
Reservists from the 4th Battalion Royal 22nd Regiment and the Fusiliers Mont Royal Band, joined members of the Chomedey Royal Canadian Legion and other similar organizations as well as Laval Liberty High School students in a memorial parade, Sunday morning.
The event was particularly poignant this year, both because of the tragic murders of Canadian Army Cpl. Nathan Cirillo in Ottawa and Royal Canadian Air Force Warrant Officer Patrice Vincent in St. Jean sur Richelieu. It also marked the centenary of the outset of World War I.
"Every year in November, hundreds of events are organized worldwide to commemorate Remembrance Day," Charbonneau said in a statement. "This is an opportunity to recognize the contributions of our veterans and to honor the memory of those who made the ultimate sacrifice for our country."
A rainbow framed the Laval skyline during the city's Remembrance day commemoration, Sunday.
(function(i,s,o,g,r,a,m){i['GoogleAnalyticsObject']=r;i[r]=i[r]||function(){
(i[r].q=i[r].q||[]).push(arguments)},i[r].l=1*new Date();a=s.createElement(o),
m=s.getElementsByTagName(o)[0];a.async=1;a.src=g;m.parentNode.insertBefore(a,m)
})(window,document,'script','//www.google-analytics.com/analytics.js','ga');
ga('create', 'UA-45892555-1', 'auto');
ga('send', 'pageview');