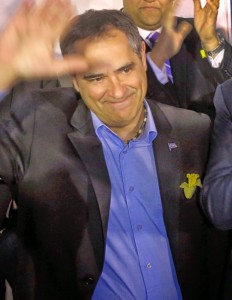 Quebec to boost small-claims limit to $15,000


By Robert Frank
www.thesuburban.com
The government is moving swiftly to increase the amount that you can claim in the province's small claims courts from $7,000 to $15,000, Fabre MNA Gilles Ouimet told The Suburban.
"The new limits will come into force sooner rather than later, possibly as soon as January 2015," he said in an interview.
Ouimet successfully appealed to fellow legislators of all political stripes last week, who voted to approve the bill, which passed first reading in the National Assembly, Oct. 7.
"I'm pleased to hear from my opposition colleagues is that we can quickly proceed with consideration of the bill to make it applicable quickly," he said in the legislature last week, "because all of us have an interest in implementing substantive measures which will ensure that [ordinary citizens] have recourse to the justice system."
"By approving the first reading of the bill, the National Assembly has adopted the law in principle," Ouimet explained. "Now we will proceed to study the bill, section by section, before the next step, when it will be adopted."
He expressed optimism that the broad consensus in the legislature will continue and that the bill will swiftly pass final reading, once the review is complete.
"All political parties represented in this House need to ensure access-to-justice," said Ouimet. "In justice, it's of foremost importance that citizens understand how the law of the land applies to them. It's essential that these laws are simple to understand and apply, so as to avoid needless debate and needless litigation in the enforcement of our laws."
(function(i,s,o,g,r,a,m){i['GoogleAnalyticsObject']=r;i[r]=i[r]||function(){
(i[r].q=i[r].q||[]).push(arguments)},i[r].l=1*new Date();a=s.createElement(o),
m=s.getElementsByTagName(o)[0];a.async=1;a.src=g;m.parentNode.insertBefore(a,m)
})(window,document,'script','//www.google-analytics.com/analytics.js','ga');
ga('create', 'UA-45892555-1', 'auto');
ga('send', 'pageview');
Gilles Ouimet
(Photo © Robert Frank)