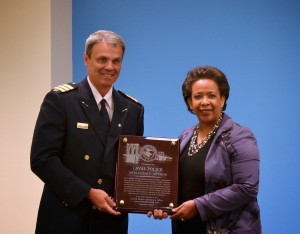 By Robert Frank
www.thesuburban.com
The United States Drug Enforcement Agency (DEA) and Department of Justice (DOJ) joined in honouring the Laval Police service during an official ceremony in New York City, Sept. 26.
Insp. Jean Joly visited the Big Apple to receive the award on behalf of his brother and sister Laval Police officers for their "invaluable contribution to the successful investigation and prosecution of Jimmy Cournoyer."
"Dubbed by the Canadian press as the 'King of Pot', Cournoyer was the leader of a massive international drug trafficking enterprise that forged ties with some of the most powerful organized crime groups in the world," noted U.S. Attorney for Eastern New York Loretta E. Lynch in the citation, "and imported more than 100 tons of illegal narcotics into the United States."
"His conviction is a testament to your perseverance, dedication and tremendous crossborder cooperation," she said.
"The recognition was a confirmation of the solid ties that we have established with DEA and DOJ," Insp. Joly told The Suburban in an interview afterward. "It's a partnership that works and holds great promise for the future of law enforcement."
Insp. Joly, who heads the Laval Police criminal intelligence branch explained that crime groups have hitherto thrived by spreading their activities across municipal, provincial and international jurisdictions.
"If we want to succeed, we have choice but to cooperate because, more than ever, crime spans international borders," he concluded. "As a result, the Laval community is a safer place than it would otherwise have been."
Laval Police criminal intelligence branch head Insp. Jean Joly accepted kudos in New York City, Sept. 26, from U.S. Attorney Loretta E. Lynch.
(function(i,s,o,g,r,a,m){i['GoogleAnalyticsObject']=r;i[r]=i[r]||function(){
(i[r].q=i[r].q||[]).push(arguments)},i[r].l=1*new Date();a=s.createElement(o),
m=s.getElementsByTagName(o)[0];a.async=1;a.src=g;m.parentNode.insertBefore(a,m)
})(window,document,'script','//www.google-analytics.com/analytics.js','ga');
ga('create', 'UA-45892555-1', 'auto');
ga('send', 'pageview');