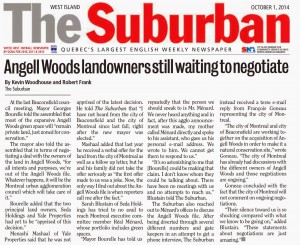 By Kevin Woodhouse and Robert Frank
www.thesuburban.com
At the last Beaconsfield council meeting, Mayor Georges Bourelle told the assembled that most of the expansive Angell Woods green space will "remain private land, just zoned for conservation."
The mayor also told the assembled that in terms of negotiating a deal with the owners of the land in Angell Woods, "for all intents and purposes, we're out of the Angell Woods file. Whatever happens, it will be the Montreal urban agglomeration council which will take care of it."
Bourelle added that the two principal land owners, Seda Holdings and Yale Properties had yet to be "apprised of this decision."
Menashi Mashaal of Yale Properties said that he was not apprised of the latest decision. He told The Suburban that "I have not heard from the city of Beaconsfield and the city of Montreal since last fall, right after the new mayor was elected."
Mashaal added that last year he received a verbal offer for the land from the city of Montreal as well as a follow up letter, but he and his family did not take the offer seriously as "the first offer made to us was a joke. Now, the only way I find out about the Angell Woods file is when reporters call me after the fact."
Sarah Blustain of Seda Holdings has tried to no avail to reach Montreal executive committee member Réal Ménard, whose portfolio includes green spaces.
"Mayor Bourelle has told us repeatedly that the person we should speak to is Mr. Ménard. We never heard anything and in fact, after this agglo announcement was made, my mother called Ménard directly and spoke to his assistant, who gave us his personal e-mail address. We wrote to him. We cannot get them to respond to us."
"It's so astonishing to me that [Bourelle] could be making that claim. I don't know whom they could be talking about. There have been no meetings with us and no attempts to reach us," Blustain told The Suburban.
The Suburban also reached out to Ménard's offices to discuss the Angell Woods file. After being diverted through several different numbers and gate keepers in an attempt to get a phone interview, The Suburban instead received a terse e-mail reply from François Goneau representing the city of Montreal.
"The city of Montreal and city of Beaconsfield are working together on the acquisition of Angell Woods in order to make it a natural conservation site," wrote Goneau. "The city of Montreal has already had discussions with the different owners of Angell Woods and those negotiations are ongoing."
Goneau concluded with the fact that the city of Montreal will not comment on ongoing negotiations.
"Their silence toward us is so shocking compared with what we know to be going on," added Blustain. "These statements about negotiations are just amazing."
(function(i,s,o,g,r,a,m){i['GoogleAnalyticsObject']=r;i[r]=i[r]||function(){
(i[r].q=i[r].q||[]).push(arguments)},i[r].l=1*new Date();a=s.createElement(o),
m=s.getElementsByTagName(o)[0];a.async=1;a.src=g;m.parentNode.insertBefore(a,m)
})(window,document,'script','//www.google-analytics.com/analytics.js','ga');
ga('create', 'UA-45892555-1', 'auto');
ga('send', 'pageview');