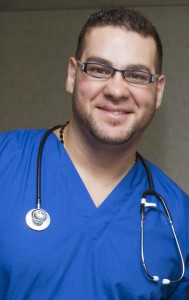 By Robert Frank
www.thesuburban.com
Charbel El Melhem wants you to give blood on Friday. He draws his infectious enthusiasm for giving the gift of life from his youth.
Today, the nursing instructor teaches at the Laval campus of CDI college. But when he was 11, blood donations spared him when he suffered a life-threatening accident in the midst of full-blown civil war in Lebanon.
"I wouldn't have survived without my brothers and cousins," he said in a statement. "My family was extremely generous—while I was lying unconscious in hospital, they all came to give their blood, so that I could live."
El Melhem will serve as ambassador for Friday's Laval blood donor clinic. Organizers hope to attract 850 donors, Sept. 5, to participate in this year's collection, which will run from 8 a.m.-8 p.m. at the Chomedey sports complex at 955 Bois de Boulogne.
El Melhem said that he's putting the accent this year on getting members of Laval's burgeoning non-francophone population to participate.
"I've given myself the mission of maximizing the number of immigrant donors," he said. "Laval is a large, cosmopolitan city, and if everyone who can give blood, regardless of race or colour, decides to do so, Héma Quebec will be in a better position to meet the needs of people of every background."
"It's a simple equation," he concluded. "If those who need blood are to receive it, you have to give."
Organizers plan set up a mini-daycare to permit parents of young children to give. Free transportation to the clinic is available to prospective donors by calling [450] 978-6888 x 5249.
Most adults in good health are eligible to give blood. More information about eligibility is available at www.hema-quebec.qc.ca
This year's clinic is the city's 41st. Laval residents have historically been generous with their blood. They have made more than 48,850 donations during the clinic's first four decades.
Pass it on: Blood donors saved Charbel El Melhelm in the midst of Lebanon's civil war. Now he wants you to give the gift of life.