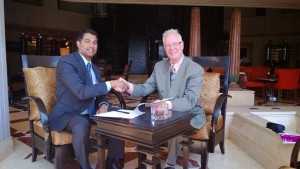 LBPSB attracting students from 25 countries around the world
By Robert Frank
www.thesuburban.com
Lester B. Pearson School Board (LBPSB) officially inaugurated its latest international initiative, Feb. 21—a first in Quebec.
"We have 170 students currently enrolled in computer support training at the International Vocational College, our state-of-the-art centre on University Street, between Ste. Catherine and Cathcart," enthused Carol Mastuantono. "About 60 percent are from India, with most of the remainder coming from Asian countries like China and South Korea."
"Down the line, we intend to incorporate other programs, such as cloud computing and other high-tech fields there," the director of LBPSB's international department told The Suburban.
"Some 70 people attended the official opening, including the school board chair, director general and other senior administrators as well as education officials from around the province and many of our partners and agents," said Mastuantono, who was the international department's sole employee when it started up a dozen years ago.
Mastuantono said that LBPSB is the only school board in the province to have recognized the demand overseas for quality Canadian education and seized the opportunity by forming an international education department.
"Other school boards are looking at recruiting internationally, but none of them have yet set up internationally, so we are leading the province with this initiative," she observed.
The downtown students are young adults who range in age from 20-28 years old and live on their own.
LBPSB has partnered with Toronto firm Edu-Edge, to promote its international program in India.
"We aim to provide LBPSB access to a large and fast-growing market," said EduEdge president Naveen Kolan. "Edu-Edge operates a network more than 200 colleges of educational consultants across South Asia to ramp up demand for LBPSB programs. Coupled with rising income levels there, this holds tremendous potential."
LBPSB director general Robert T. Mills visited India, Aug. 21, to sign an agreement with Edu-Edge president Naveen Kolan to market the school board's courses in South Asia.
(function(i,s,o,g,r,a,m){i['GoogleAnalyticsObject']=r;i[r]=i[r]||function(){
(i[r].q=i[r].q||[]).push(arguments)},i[r].l=1*new Date();a=s.createElement(o),
m=s.getElementsByTagName(o)[0];a.async=1;a.src=g;m.parentNode.insertBefore(a,m)
})(window,document,'script','//www.google-analytics.com/analytics.js','ga');
ga('create', 'UA-45892555-1', 'robertfrankmedia.blogspot.com');
ga('send', 'pageview');