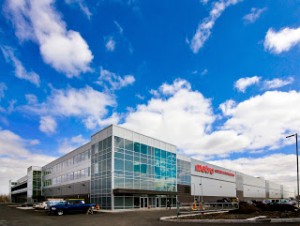 By Robert Frank
www.thesuburban.com
The $11 billion Metro supermarket chain announced last week that it intends to expand the workforce at its spanking-new Laval distribution centre by 23 percent.
Metro spokeswoman Marie-Claude Bacon told The Suburban that the grocery network made the move to consolidate distribution of fresh fruit and vegetables and dairy products—mostly cheese—to its Quebec stores from the $50 million, state-of-the-art logistics hub that it opened in Laval in April.
"Produce from all over the world and—depending on the season—from Quebec, passes through the 240,000 sq.ft. facility," she said, noting that fresh milk and yogurt will still be delivered directly to its stores by dairy manufacturers. "We currently employ some 350 people there, and expect the Laval complement to grow by about 80 positions."
The increase comes at the expense of 114 staff at the distribution centre near Quebec City, which will close, March 9, Bacon said that it was unclear how many of its workers in the town of St. Augustin de Desmaures, where it has operated since 2008, would move to Laval.
A search of Metro's website last week showed that it was accepting applications for several permanent jobs in Laval.
Bacon said that Metro opted to open its logistics centre at 1600 Montée Masson, adjacent to Highway 440 in St. Vincent de Paul, because of the ready availability of land in a city that is crisscrossed by an excellent freeway network.
"We built it with the future in mind," she said. "Lots of trucks transit our site. Laval gives us lots of flexibility to accommodate the additional volume of produce. We hope to further increase that volume in future."
"We have a separate distribution facility to serve our stores in Ontario," Bacon explained. "The company doubled in size the day that it bought A&P Canada in 2005," she recalled. "Our operations in Ontario are about equal to the volume that we transact in Quebec."
In addition to its network of more than 600 Metro, Super C and Food Basics food stores, the parent company operates more than 250 Brunet, Drug Basic and The Pharmacy drug stores.
Every Metro store in Quebec will get its fresh produce and cheese via the grocer's strategically placed Laval logistics hub.
(function(i,s,o,g,r,a,m){i['GoogleAnalyticsObject']=r;i[r]=i[r]||function(){
(i[r].q=i[r].q||[]).push(arguments)},i[r].l=1*new Date();a=s.createElement(o),
m=s.getElementsByTagName(o)[0];a.async=1;a.src=g;m.parentNode.insertBefore(a,m)
})(window,document,'script','//www.google-analytics.com/analytics.js','ga');
ga('create', 'UA-45892555-1', 'robertfrankmedia.blogspot.com');
ga('send', 'pageview');