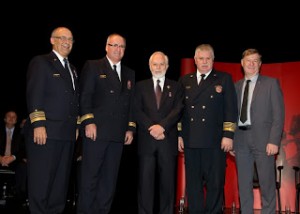 Annual fire-safety ceremony
By Geneviève April
www.thesuburban.com
Looking dazzling in their crisp uniforms, Laval's firefighters gathered at Marcellin-Champagnat Theater, Nov. 26, to congratulate their peers who distinguished themselves through acts of bravery. Courageous citizens who had selflessly intervened in emergency situations were also honoured.
Numerous medals, certificates and congratulation letters were handed out to 12 citizens who helped to save lives by acting quickly and bravely in the Yvon Chartrand arena, Villa Ste. Rose and St. Vincent de Paul private residence fires. Amongst the recipients was Christopher Noonan, who received the Lifesaver Medal for his intervention in the 1000 Plessis St. fire.
More than 20 firefighters were then invited onstage to receive their official nominations and promotions, and a new recruit, Andréanne Lemay, was sworn in at the Prevention division.
For their 20 years of faithful service, Patrick Ferland, Patrick Gouin, Serge Ricard and Normand Turcotte received a long-service medal. Firefighters who had completed 30 years of service, earning them a bar to accompany their medal included Louis Boucher, Luc Chaput, René Daigneault, Serge Déry, Réjean Jodoin, Alain Gauthier, Régis Lessard and Richard Varin.
There followed a heartfelt and moving homage to Lac Mégantic firefighters who intervened to save lives and comfort shocked citizens in the wake of the July 6 train explosion that obliterated the town's downtown core.
Quebec Lieutenant-Governor the Hon. Pierre Duchesne, Mayor Marc Demers, Fire Chief Robert Séguin and other dignitaries all joined in applauding André St. Hilaire, who was awarded the Queen Elizabeth II Diamond Jubilee Medal for his outstanding engagement and exemplary contribution to fire prevention in Québec.
The head of Laval's fire prevention division André St. Hilaire was awarded the Queen Elizabeth II Diamond Jubilee Medal in recognition of his outstanding accomplishments. (Left to right) Fire prevention director Robert Séguin, André St. Hilaire, Quebec Lieutenant-Governor the Hon. Pierre Duchesne, Quebec Association of Fire Chiefs president Daniel Brazeau and Laval Mayor Marc Demers.
(function(i,s,o,g,r,a,m){i['GoogleAnalyticsObject']=r;i[r]=i[r]||function(){
(i[r].q=i[r].q||[]).push(arguments)},i[r].l=1*new Date();a=s.createElement(o),
m=s.getElementsByTagName(o)[0];a.async=1;a.src=g;m.parentNode.insertBefore(a,m)
})(window,document,'script','//www.google-analytics.com/analytics.js','ga');
ga('create', 'UA-45892555-1', 'robertfrankmedia.blogspot.com');
ga('send', 'pageview');