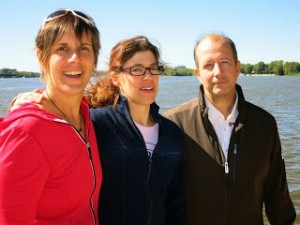 Karidogiannis delivers fast on election promise


By Robert Frank
www.thesuburban.com
Laval Rowing Club's 320 members will be getting a new teaching and training facility, thanks to support from the city and the provincial government.
The city's announcement, Nov. 22, made good on a campaign promise by newly elected Abord à Plouffe Councillor Vasilios Karidogiannis.
Karidogiannis discovered the club's facilities during a riverfront interview with The Suburban, Aug. 23. He was so impressed with how the club's popular program fit his aim to transform the district's neglected waterfront, that he spontaneously declared his support for helping it to find a solution for its overcrowded shoreline premises.
Within three weeks of being elected, the new city government has moved to help the club realize its dream of building a centre that will accommodate a growing membership that is overflowing from its crowded current premises adjacent to St. Maxime High School.
Karidogiannis said that the club exemplifies the vast, as-yet untapped potential of the Laval shoreline.
"The Laval Rowing Club was a diamond in the rough that I discovered during the election campaign," he told The Suburban, following last week's announcement. "It is one of the places that I want to help promote as much as possible."
"I intend to become a member myself," he added, "It will help me to keep fit and enjoy the calm and serene waterfront location. I plan to encourage others to join and take advantage of Laval's beautiful river and waterfront."
"The city recognized that the Laval Rowing Club is already very well-attended," confirmed city spokeswoman Cathérine Erazola. "They have also played host to several major sporting events including the Paton Challenge, which brought together nearly 300 Ontario and Quebec athletes. We hope to welcome more such interprovincial as well as international waterborne athletic meets to Laval."
Erazola noted that the city has long supported the Laval Rowing Club, which was founded in 1956, helping it to buy docks and offering assistance rebuilding, after a 2007 fire that damaged its facilities.
"The new centre will feature an indoor rowing basin second to none in Quebec," she said. "It will also have a weight training area and be able to accommodate more family activities."
"The budget and timetable for completion have not yet been disclosed," Erazola concluded.
Within three weeks of being elected, Abord à Plouffe councilor Vasilos (Bill) Karidogiannis kept his campaign promise to Laval Rowing Club members (left to right) Mélanie and Laura.
(function(i,s,o,g,r,a,m){i['GoogleAnalyticsObject']=r;i[r]=i[r]||function(){
(i[r].q=i[r].q||[]).push(arguments)},i[r].l=1*new Date();a=s.createElement(o),
m=s.getElementsByTagName(o)[0];a.async=1;a.src=g;m.parentNode.insertBefore(a,m)
})(window,document,'script','//www.google-analytics.com/analytics.js','ga');
ga('create', 'UA-45892555-1', 'robertfrankmedia.blogspot.com');
ga('send', 'pageview');