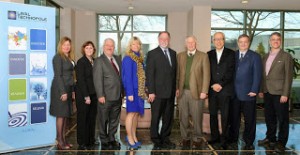 By Robert Frank
www.thesuburban.com
With Laval's economy still thriving while Montreal's is stalled and the rest of Quebec is sputtering, an influential group of Americans paid a visit to Laval Technopole, Nov. 12, to learn more about the island city's business potential.
"They're called site selectors," Laval Technopole president and CEO Pierre Desroches told The Suburban in an interview. "They advise American firms that want to set up operations outside the United States. They were here to take note—and they took a lot of notes."
"They came here to learn about what Laval has already accomplished and its potential to do even more," he explained. "Their companies or their customers will be moving to Canada at some point, so they're interested in learning more about Laval."
The group, which included site selectors from Chicago, Boston and New Jersey, spent four hours in briefings with Laval Technopole officials.
"When they arrived, they didn't have a very good idea what Laval is all about," Desroches added. "They came on a hunch."
"We gave them an overview of our city," he said. "We profiled Laval's economy, what types of businesses are already here and how our industrial parks work. Then we brought them to visit our biotech city. There's nothing in the United States to compare with it—having all those life sciences firms and research centres in one place. They don't find that sort of cluster at home."
Desroches explained that getting large corporations to settle in Laval takes much more than merely having ample land available at the right price.
"For companies to come here, we have to show them that we provide an attractive place to live, to work, to play and to learn" he said. "We have all those four good things here in Laval: The lifestyle, excellent housing, great entertainment and top-notch educational institutions like the University of Montreal campus, plus lots of well-educated potential employees."
Having great transportation infrastructure also helps, he added.
"Travel is easy," he affirmed. "We're 19 minutes from both Dorval and Mirabel airports, during non-rush hour."
Desroches expects that will translate into opportunities, in the months to come.
He noted that that parade of corporations setting up in Laval continues unabated, noting Valeant's announcement earlier this year that it would move its world headquarters here, and Servier's recent decision to open a $16.3 million clinical research facility in Laval.
(Left to right) Maria Assalone, KPMG, New York; Melissa Nebelsick, Del, Chicago; Elie Farrah, Vice-President, Montreal International; Chantal Joyal, Manager, Business Services and Head Offices, Laval Technopole; Pierre Desroches, President and CEO, Laval Technopole; Ron Ruberg, Location Advisory Services, New Jersey; Sam V.K. Lee, Euclidean5 Advisory LLC, Chicago; Gilbert LeBlanc, Vice-President, Development, Investment and Real Estate, Laval Technopole; and Jean-Marc Juteau, Director, Biotech City.
(function(i,s,o,g,r,a,m){i['GoogleAnalyticsObject']=r;i[r]=i[r]||function(){
(i[r].q=i[r].q||[]).push(arguments)},i[r].l=1*new Date();a=s.createElement(o),
m=s.getElementsByTagName(o)[0];a.async=1;a.src=g;m.parentNode.insertBefore(a,m)
})(window,document,'script','//www.google-analytics.com/analytics.js','ga');
ga('create', 'UA-45892555-1', 'robertfrankmedia.blogspot.com');
ga('send', 'pageview');