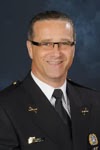 By Robert Frank
www.thesuburban.com
Laval's municipal commission has appointed Michel Guillemette to serve as deputy chief of Laval's police service.
Municipal commission spokeswoman Sylvia Morin confirmed that the new deputy chief commenced his tenure Nov. 18. He succeeded deputy chief Réjean Simard, who retired on Nov. 1. Simard was reportedly one of the candidates who had been short-listed to succeed former Chief Jean-Pierre Gariépy.
Guillemette comes to Laval from after more than 28 years with the Montreal Police service, where he was responsible for overseeing the entire northern sector of the metropolis.
His previous post heading the internal affairs and professional ethics division could signal a pending shakeout at Laval Police headquarters.
The municipal commission previously rushed in a new police chief—Pierre Brochet—putting previous Chief Jean-Pierre Gariépy out to pasture Sept. 1—a full four months before his announced retirement date.
Gariépy, who joined Laval Police after helping to sort out the Oka Crisis as a Sûreté du Québec official, has never been accused of any wrongdoing. He suggested, in parting, that municipal police chiefs need more independence from city hall, in the wake of accusations that his former boss, former mayor Gilles Vaillancourt, systematically flouted the law for his own gain.
Parachuting an outsider with strong internal affairs credentials into Laval's number-two police position suggests that the municipal commission wants an incumbent who can size up the current complement of police officers and, if need be, implement change.
Newly elected Mayor Marc Demers, who was a lieutenant-detective when he retired from Laval police after more than 30 years of service, told The Suburban in an interview that one of his former colleagues—a senior Laval Police official—had ties with shady individuals who have since been accused of wrongdoing.
"I denounced it," Demers recalled. "There was an attempted cover-up."
The mayor emphasized that Gariépy, "who [at that time] had just arrived, was not the object of my testimony."
Chief Brochet is also an outsider who was deputy chief of Montreal Police until moving to Laval.
During the election campaign, Mayor Demers went on record asking the municipal commission to refrain from making senior appointments. He suggested that it should leave the selection of top municipal officials to whomever Laval voters elected, Nov. 3.
Even though the commission announced last week that Laval's trusteeship will be lifted, Dec. 9, it has nonetheless used its far-ranging powers appoint Guillemette as well as to fill most other key municipal civil service posts. Ten days ago, they announced that they had hired city manager Serge Lamontagne, Laval's top official, to oversee the day-to-day running of the city, having previously recruited police chief director Pierre Brochet and ombudsman Nadine Mailloux.
Laval's new deputy police chief Michel Guillemette was responsible for disciplining Montreal Police Const. Stéphanie Trudeau, who became infamous worldwide on YouTube as Officer 728, in the wake of an unprovoked pepper-spray incident.
(function(i,s,o,g,r,a,m){i['GoogleAnalyticsObject']=r;i[r]=i[r]||function(){
(i[r].q=i[r].q||[]).push(arguments)},i[r].l=1*new Date();a=s.createElement(o),
m=s.getElementsByTagName(o)[0];a.async=1;a.src=g;m.parentNode.insertBefore(a,m)
})(window,document,'script','//www.google-analytics.com/analytics.js','ga');
ga('create', 'UA-45892555-1', 'robertfrankmedia.blogspot.com');
ga('send', 'pageview');