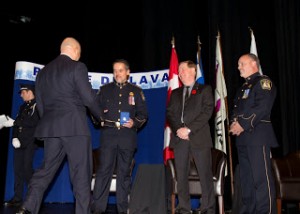 By Robert Frank
www.thesuburban.com
Laval's new police chief Pierre Brochet presented the Police Exemplary Service Medal to 35 of his officers, during an official ceremony, Nov. 12.
Police officers in Canada who have served their community for 20 years in an exemplary fashion, qualified by good conduct, industry and efficiency are eligible for the award, which —like the Order of Canada—is part of the official Canadian system of honours.
Four more Laval Police officers received the bar to the Police Exemplary Service Medal. Rather than awarding a second, identical medal, the bar is issued and worn on the ribbon above the medal in recognition of each additional ten years of exemplary police service. Last week's four recipients have served more than 30 years each.
Newly elected Mayor Marc Demers—who himself retired from Laval Police as a senior officer, several years ago—joined Brochet at the ceremony, together with deputy police chief Benoît Paquette.
Demers used the occasion to remind the audience that Laval remains one of the safest cities in Canada largely, he said, thanks to the diligence of its police officers.
In addition to the medals presentation, 22 officers received promotions during the ceremony.
The police service declined to identify the recipients of the honours and promotions, due to the nature of their work.
Sixty-two Laval Police officers received medals or promotion during an official ceremony last week.
(function(i,s,o,g,r,a,m){i['GoogleAnalyticsObject']=r;i[r]=i[r]||function(){
(i[r].q=i[r].q||[]).push(arguments)},i[r].l=1*new Date();a=s.createElement(o),
m=s.getElementsByTagName(o)[0];a.async=1;a.src=g;m.parentNode.insertBefore(a,m)
})(window,document,'script','//www.google-analytics.com/analytics.js','ga');
ga('create', 'UA-45892555-1', 'robertfrankmedia.blogspot.com');
ga('send', 'pageview');