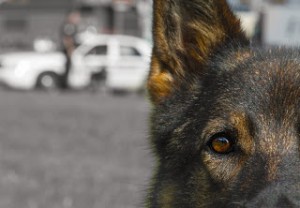 By Robert Frank
www.thesuburban.com
Laval's furry finest feature once again in an increasingly popular fundraising calendar produced by Laval Police to help head trauma victims.
The calendar again features more of retired Const. Éric Coia's outstanding photos of the four-footed members of the police service's dog squad. In addition, the 2014 cynophile squad calendar will for the first time come bundled with a colouring book for children.
"A police officer drew the colouring book to match the images in the calendar," Const. Nathalie Lorrain told The Suburban.
The calendar went on sale this month at IGA grocery stores in Laval as well as at district police stations and Laval Police headquarters.
During the past four years, its predecessors succeeded in raising more than $150,000 — including nearly $47,000 last year alone — for the Martin Matte Foundation, which builds specialized homes and supports activity centres for head trauma victims. The calendars are also available through the Internet at www.fondationmartinmatte.com or by sending a five dollar cheque payable to Fondation Martin-Matte to 3095 Autoroute Laval West H7P 4W5.
Laval police have vowed to remit every cent that they raise to the charity.
Police dogs are routinely involved in Laval Police operations. During the past year, The Suburban has reported on numerous incidents where the pooches have succeeded in helping their handlers to track down and arrest lawbreakers.
Another novelty this year is a bookmark that will come bundled with the calendar, on which appears a telephone hotline number through which Cooperators offers quotations on the price of its insurance policies.
"Cooperators will give two dollars to the Martin Matte Foundation for every quote that they give, provided the caller mentions the calendar and where they got the bookmark," Const. Lorrain said.
Laval Police initiated the calendar project after police officer Éric Lavoie died from head injuries, following a car crash.
Fundraiser features four-footed furry finest
(function(i,s,o,g,r,a,m){i['GoogleAnalyticsObject']=r;i[r]=i[r]||function(){
(i[r].q=i[r].q||[]).push(arguments)},i[r].l=1*new Date();a=s.createElement(o),
m=s.getElementsByTagName(o)[0];a.async=1;a.src=g;m.parentNode.insertBefore(a,m)
})(window,document,'script','//www.google-analytics.com/analytics.js','ga');
ga('create', 'UA-45892555-1', 'robertfrankmedia.blogspot.com');
ga('send', 'pageview');