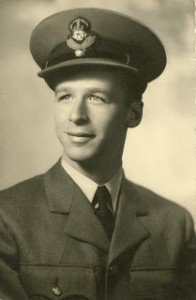 RCAF vets recognized–two-thirds of a century later
By Robert Frank
www.thesuburban.com
A FedEx courier showed up at my office, Friday afternoon, with a package for me.
The package was overdue, but it was the sender's fault, not FedEx'.
Inside, was a small box accompanied by a form letter from Veterans Affairs Minister Julian Fantino.
The box contained a Bomber Command bar, in recognition of my father's Royal Canadian Air Force (RCAF) service during World War II.
Why had it taken more than 68 years after the end of hostilities to acknowledge the men who served in Bomber Command?
Most Canadians don't realize that World War II's strategic bombing campaign was to the RCAF what trench duty was to Canada's World War I soldiers.
It was a meat grinder. These aviators had more than earned a tip of the hat. They had spilled a river of blood: some 10,000 dead – about a sixth of all Canadian casualties during the conflict. The attrition was so horrendous that bomber crews had barely over 50:50 odds of surviving a 30-mission tour of duty. Out of about 120,000, 53,000 were killed.
They were among the few who took the fight to the enemy between 1940 and 1944—most of the war—while Hitler stood astride Europe.
The late publisher of Press Review, Mike Cassidy, once told me of the years that he spent in German prisoner of war camps because his aircraft commander didn't want needless civilian casualties on the ground.
"He made us go around a second time to get a clear shot," said the former bomb aimer. "That was when we were shot down."
Much has been written out of the RCAF's World War II history. My father was a radar officer. Back then, it was as new and as top secret as today's stealth technology. It proved pivotal to the war's outcome.
Canadians made such a huge contribution to radar that the British issued a certificate thanking every RCAF member who had worked in radar. Such was Canadian nationalism at the war's end that the Canadian government destroyed all but one of the certificates.
Later, when it came time to write the history of the RCAF in World War II, the Canadian government decided only to include formed RCAF units in the official account.
That left out the majority of RCAF personnel who served under the British in the Royal Air Force—including members working on radar. Likewise, Ferry Command, whose need for an aerodrome led to the construction of Dorval Airport, is largely written out of Canadian history, becaue it was run by the Brits.
Likewise, most of the history of the same period during World War II was lost irretrievably following the decision to destroy the records of the Special Operations Executive (SOE) at the end of the conflict. SOE was another British-run operation that ran clandestine underground resistance networks throughout Occupied Europe during the first half of the 1940s.
While there is little that can be undone about those crimes against history, it is odd that recognition was so long in coming for the aviators, so many of whom gave their all for our freedom.
The sanitized, feels-good version of history that retrofits our recollections to suit today's values cheats us from understanding what really happened.
It might help to make us feel better about it. But I'm glad that my Dad's contribution at last has earned a tiny, tangible piece of official acknowledgement.
When you attend Remembrance Day ceremonies this week, take time to look up. Give some thought to how important the skies were to Victory and the relatively enduring peace in Europe that it has bought. And, please, take a silent moment to remember those aviators who paid with their lives for it.
Recognition for Royal Canadian Air Force Flight-Lieutenant Arthur Frank's World War II service in Bomber Command came nine years after his death.
(function(i,s,o,g,r,a,m){i['GoogleAnalyticsObject']=r;i[r]=i[r]||function(){
(i[r].q=i[r].q||[]).push(arguments)},i[r].l=1*new Date();a=s.createElement(o),
m=s.getElementsByTagName(o)[0];a.async=1;a.src=g;m.parentNode.insertBefore(a,m)
})(window,document,'script','//www.google-analytics.com/analytics.js','ga');
ga('create', 'UA-45892555-1', 'robertfrankmedia.blogspot.com');
ga('send', 'pageview');