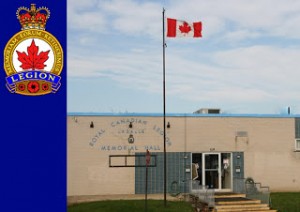 By Tracey Arial
www.thesuburban.com
LaSalle Royal Canadian Legion Branch 212 on Bouvier Street is facing the possibility of paying property taxes this year for the first time since 2003.
In a decision rendered by administrative judge Jacques Lareau on June 28, Quebec's municipal commission revoked the tax exempt status of Legion Branch 212, although there was no date as to when it might take effect. Last week, the legion got a letter indicating that the decision is retroactive to the beginning of the year.
"If we have to pay our taxes, I don't know how we'll be able to carry on," said Legion 212 president Fred Jennings. "We just replaced our roof, our kitchen had to be renovated and now we have to worry about leaks in our brickwork. If they levy a tax on us now, we're finished. This could be the nail in the coffin for us."
Legion 212 serves a total of 316 members including many honorary members who are veterans in the Ste. Anne's hospital.
It also donates funds to various foundations, including one researching breast cancer. In addition to three dart leagues and a card club, the facilities are used for no charge by several local community groups, including the Knights of Columbus, the Parent Family Association, the Mana Food Bank and the Hope Foundation. It holds blood clinics on its premises several times a year.
"What happened is that on our financial statements, the donations don't show up because most of them were done through the Poppy Fund and the Woman's Auxilliary," said Archambault. "We also sent them a list of all the organizations that use our facilities for no charge."
The commission's original letter informing legion officials that they lost their tax-exempt status arrived at the branch at the end of July. Most directors were on vacation during the summer, so the legion approached retired policeman Gilbert Archambault to figure out what they should do.
Archambault called the commission and was told that a proper donation breakdown, receipts and letters of support should be sent to the commission by the end of December. They mailed that package two weeks ago.
Meanwhile, Judge Lareau crafted a second decision to ensure that his June 28 decision would apply retroactively as of Jan. 1, 2013.
Archambault isn't sure what to do next. He says that right now he's busy writing letters to local businesses asking them to donate to their poppy campaign. Anyone who wants to help out can send a cheque to the Poppy Fund, Legion Branch 212, 7771 Bouvier, LaSalle, H8N 2G6.
(function(i,s,o,g,r,a,m){i['GoogleAnalyticsObject']=r;i[r]=i[r]||function(){
(i[r].q=i[r].q||[]).push(arguments)},i[r].l=1*new Date();a=s.createElement(o),
m=s.getElementsByTagName(o)[0];a.async=1;a.src=g;m.parentNode.insertBefore(a,m)
})(window,document,'script','//www.google-analytics.com/analytics.js','ga');
ga('create', 'UA-45892555-1', 'robertfrankmedia.blogspot.com');
ga('send', 'pageview');