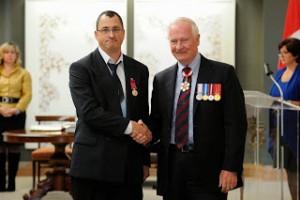 By Robert Frank
www.thesuburban.com
Laval resident Guy Liboiron received the Medal of Bravery in Quebec City, Oct. 4.
Governor General David Johnston officially presented the insignia during a ceremony at the historic Citadelle.
Liboiron earned the distinction for having saved people at Sacré Cœur hospital from a dangerous patient who had run amok.
On February 17, 2011, the patient was admitted to the hospital where Liboiron worked. The patient was placed on a stretcher and, several times during the evening, became agitated and had to be brought under control. In the end the patient was restrained for his own safety as well as that of others.
When Liboiron started his shift the next day, he noticed that the patient was still there, dressed normally, unrestrained and appearing calm. However, as evening progressed, the man became increasingly agitated and incoherent.
Twice, he attempted to escape; each time, Liboiron and his colleagues managed to catch him before he reached the door, about twenty metres away.
Around 8:30 p.m., the patient attempted to escape for the third time. By now more agitated, he brandished an object in his right hand and used it to threaten patients and staff. At first, they thought the object was a flashlight.
The patient pointed the object directly at Liboiron when he came closer. Feeling threatened, Liboiron seized the patient's right arm and held it up toward the ceiling. At that moment, a shot rang out.
The object, it turned out, was a .22 calibre pen gun. Thanks to Liboiron's fearlessness, the bullet lodged harmlessly in the ceiling.
Liboiron restrained the patient and called for security backup.
The Medal of Bravery entitles Liboiron to use the postnominal letters MB after his name for the rest of his life, in recognition of his heroism.
It's not Liboiron first trip to Quebec City to be honoured. He was also recognized in February with the Quebec Citizenship Medal, by Justice Minister Bertrand St. Arnaud, during a colourful ceremony in the provincial legislature.
Governor General David Johnston awarded the Medal of Bravery to Laval resident Guy Liboiron for his role in subduing a disturbed hospital patient.
(function(i,s,o,g,r,a,m){i['GoogleAnalyticsObject']=r;i[r]=i[r]||function(){
(i[r].q=i[r].q||[]).push(arguments)},i[r].l=1*new Date();a=s.createElement(o),
m=s.getElementsByTagName(o)[0];a.async=1;a.src=g;m.parentNode.insertBefore(a,m)
})(window,document,'script','//www.google-analytics.com/analytics.js','ga');
ga('create', 'UA-45892555-1', 'robertfrankmedia.blogspot.com');
ga('send', 'pageview');