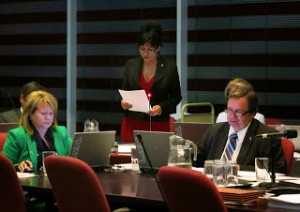 Mayor Martine Beaugrand quits politics
Laval interim Mayor Martine Beaugrand announced, Oct. 3, that she won't run again.
(Photo © Robert Frank)
By Robert Frank
www.thesuburban.com
Laval's beleaguered councillors ended their last city council meeting, Oct. 3, by calling for Florent Gagné and his team of trustees to wait and leave important decisions, like whom to hire to fill the city's top jobs, to whomever citizens elect, Nov. 3.
In a tense vote, interrupted twice by recesses while council chair Benoît Fradet conferred with the city clerk about legalities, the councillors split 9-7 in favour of outgoing St. François councillor Jacques St. Jean's motion.
St. Jean earned loud applause from the packed council chamber in gaining official approval for his demand that the provincially appointed trustees "respect Laval citizens' good judgment and honour the democratic process."
"I can't deprive the new council of its free choice for director-general," said Fradet, in supporting St. Jean's motion. "It's the oxygen of democracy. Once Laval citizens have democratically spoken, there can't be any more trusteeship for Laval."
The motion, which asks the municipal commission to hold off on major decisions until after the newly elected city councillors assume office next month, echoed similar demands by all of Laval's mayoral candidates.
Mayor Martine Beaugrand voted against, reminding council that the city had invited Quebec to impose trusteeship, as a way of reassuring the population.
She also wrapped up her brief tenure by announcing that she would not be running for office again. At the start of her first council meeting as mayor, July 8, she had said that she planned to campaign for re-election in Fabreville district. Beaugrand represented Fabreville until Alexandre Duplessis' surprise resignation catapulted her into the mayor's office.
"We're turning a page on history," Beaugrand told the crowd, describing the Thursday council meeting as "an evening of closure."
"I'm pleased to have brought some peace back to the city," she said, describing her two months as mayor as "brief, intense and rich in experience."
In her final report to council, Beaugrand recounted many of Laval's tremendous strengths as one of the three fastest-growing cities in Quebec. She also reminded that the city's economy is leading the province, and that its credit rating remains the highest in Quebec "and possibly the highest of any city in Canada."
Beaugrand also read aloud a letter that summarized the findings of the provincial auditors who have been reviewing Laval's books. She added that the full text of their observations will be published on the city's new website: www.laval.ca.
In contrast to the fraught vote over the municipal commission, most of the remainder of the meeting had an extraordinarily party-like atmosphere.
Before the meeting, the mayor and some councillors mingled and exchanged smiles and pleasantries with political opponents with whom they had been at loggerheads for years.
Once the meeting commenced, several giggled nervously at times, with the end of their tempestuous mandate clearly in close sight. Most councillors took the occasion to announce their resignation from politics. For nearly an hour, each of them stood in turn to recite their many accomplishments while in office, receiving polite applause after the often-tearful goodbyes.
Conspicuous by her absence from the meeting was Concorde-Bois de Boulogne Councillor Claire Le Bel, who is running for mayor under her newly formed Option Laval party banner.
Council wants province to return power to Laval people.
(Photo © Robert Frank)
(function(i,s,o,g,r,a,m){i['GoogleAnalyticsObject']=r;i[r]=i[r]||function(){
(i[r].q=i[r].q||[]).push(arguments)},i[r].l=1*new Date();a=s.createElement(o),
m=s.getElementsByTagName(o)[0];a.async=1;a.src=g;m.parentNode.insertBefore(a,m)
})(window,document,'script','//www.google-analytics.com/analytics.js','ga');
ga('create', 'UA-45892555-1', 'robertfrankmedia.blogspot.com');
ga('send', 'pageview');