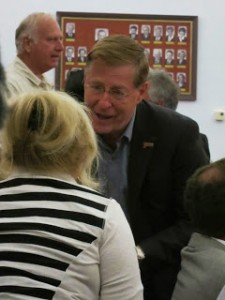 By Robert Frank
www.thesuburban.com
Mouvement lavallois mayoral candidate Marc Demers wants to stop the mudslinging that has marred Laval's municipal election campaign during the past few weeks.
Last week, Demers was the latest city hall hopeful to face accusations, in the wake of a report that he was investigated by RCMP for alleged ties to the underworld.
"Between 1996 and 1999," Demers recounted, while he was a senior officer with the Laval Police service, "I testified against a superior police officer who was doing some private investigating for a businessman, using police department [resources], which was completely illegal."
"There was an attempted cover up," he told The Suburban in an interview. "When it finally came to trial, the only thing he could do to defend himself was to claim that I wasn't an honest police officer."
Demers said that he asked then-newly appointed police chief Jean-Pierre Gariepy to have Royal Canadian Mounted Police investigate to clear his name.
"The investigation cleared me," Demers insisted. "It said that I had nothing whatsoever to do with criminals or criminal organizations."
"The following year I received from the Government of Canada a medal for exemplary service with Laval Police," he continued. "I would never have received that honour if they had anything against me."
To clear the air, Demers convened a news conference, Oct. 7, to announce that he would make public all his assets, as well as those of his wife and his company. Since retiring, Demers has earned a living teaching police officers in many Canadian cities advanced interview skills.
"There have been so many bad surprises that the people of Laval ought to know everything about the people who are running for mayor," Demers suggested. "My wife and I will also declare that we have never faced civil or criminal accusations, either."
"I think everyone should come forward and do likewise, so that people know whom they're going to vote for," he said.
Demers' clarified that his call for mayoral candidates to declare their assets doesn't yet apply to city councilor candidates.
"I made sure [though] that no [Mouvement lavallois] candidate had anything to do with a criminal past or a criminal matter," he added. "We made sure of that."
Mouvement lavallois' mayoral candidate Marc Demers at Laval's Oct. 3 council meeting, the last one before the Nov. 3 municipal election.
(Photo © Robert Frank)
(function(i,s,o,g,r,a,m){i['GoogleAnalyticsObject']=r;i[r]=i[r]||function(){
(i[r].q=i[r].q||[]).push(arguments)},i[r].l=1*new Date();a=s.createElement(o),
m=s.getElementsByTagName(o)[0];a.async=1;a.src=g;m.parentNode.insertBefore(a,m)
})(window,document,'script','//www.google-analytics.com/analytics.js','ga');
ga('create', 'UA-45892555-1', 'robertfrankmedia.blogspot.com');
ga('send', 'pageview');