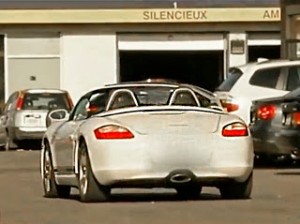 By Robert Frank
www.thesuburban.com
Stunned by revelations that the provincial government was trying to reclaim $40,000 in welfare that it paid to mayoral candidate Guy Landry, ten candidates have resigned from the Nouveau parti des lavallois (NPL).
Last week, a television cameraman recorded Landry leaving NPL election headquarters in an expensive Porsche Boxster convertible sports car, minutes after he had told a reporter that he had been entitled to the social assistance money due to an illness.
During a news conference, Sept. 30 the ten candidates said that they wren't satisfied with Landry's explanation of the accusations.
"During our normal weekly meeting, Sept. 28, several candidates asked [Landry] for clarification concerning those assertions," they said in a statement. "Not having obtained clear and satisfactory answers, we have decided to withdraw from the Nouveau parti des lavallois and campaign as independent candidates."
"We made this decision consciously," they added. "For us, integrity and transparency are non-negotiable values—they must be vigorously defended."
The ten candidates who have withdrawn are: Nicole Caron, Xavier Clapin-Pépin, Silvio de Cicco, Brian Element, Jacinthe Gagnon, Vincent-Carl Leriche, Claudie Mompoint, Sona Lakhoyan Olivier, Richard Tessier and Vincent Viviani.

"By making the decision to run as independents, we are expressing our desire for change," they added. "We are determined to offer the citizens of Laval the right to vote for honourable, competent and devoted candidates."
"Citizens of Laval need, more than ever, honourable elected representatives, women and men, to serve the general interest as closely as possible to meet the needs and expectations of all."
"We shall not tolerate moral or ethical misdemeanour within our team and especially in the management of our city," they concluded.
A television cameraman spotted mayoral candidate Guy Landry leaving his Nouveau parti des lavallois election headquarters, Sept. 25, in an expensive Porsche Boxster convertible sports car.
(function(i,s,o,g,r,a,m){i['GoogleAnalyticsObject']=r;i[r]=i[r]||function(){
(i[r].q=i[r].q||[]).push(arguments)},i[r].l=1*new Date();a=s.createElement(o),
m=s.getElementsByTagName(o)[0];a.async=1;a.src=g;m.parentNode.insertBefore(a,m)
})(window,document,'script','//www.google-analytics.com/analytics.js','ga');
ga('create', 'UA-45892555-1', 'robertfrankmedia.blogspot.com');
ga('send', 'pageview');