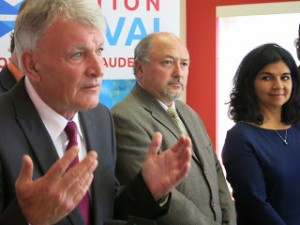 By Robert Frank
www.thesuburban.com
Jean-Claude Gobé has lashed out against the former head of Quebec's provincial police Florent Gagné and his fellow trustees who are moving to impose a budget and their own choice of top municipal officials on Laval.
"It's completely unacceptable for appointees to impose their decisions on elected officials, who are the people's representatives," thundered Gobé, who is running for mayor under the Action Laval banner, during an emergency news conference, Sept. 23.
The municipal commission, appointed by the Parti Québécois government, has already hired a new ombudsman for the city, and intends to replace other senior mandarins, including the city's top post of director-general.
"The director-general is the mayor's right-hand, and so the mayor should be involved making the decision as to who is hired," Gobé said. "They're infantilizing elected representatives. That's not democratic."
The director-general's office and the post of deputy director-general have been vacant since the previous incumbents, Gaétan Turbide and Jean Roberge stepped down officially Aug. 9, in the wake of accusations before the Charbonneau Commission of misdeeds at city hall.
The municipal commission has also authorized the creation of a new public communication department for the city, headed by a director who will be paid an annual salary exceeding $153,000.
Gobé indicated that the municipal commission has mistaken previous political malfeasance for bad management.
"The city of Laval has been well run and continues to enjoy a top AAA bond rating," he observed, contrasting it favourably with financially strapped Montreal, which Moody's rates as much riskier, at Aa2.
He noted that the current city council, though composed entirely of former members of previous mayor Gilles Vaillancourt's political party, had agreed to leave the hiring of key officials and the budget to whomever is elected, Nov. 3.
Gobé agreed that he sees a manipulative Parti Québécois hand moving in a municipal commission glove. He added that he wrote to Municipal Affairs Minister Sylvain Gaudrault, earlier that day, demanding that he halt the hiring process.
Two other mayoral hopefuls, Robert Bordeleau (Parti au Service du citoyen) and Marc Demers (Mouvement lavallois) also slammed the municipal commission's encroachment, though Demers, like his opponent Claire Le Bel (Option Laval) was more nuanced about interference in the city's budget process.
"Movement lavallois can live with an imposed budget," he said in a statement. "There's no problem whatsoever with the trustees adopting it."
Demers did observe that although much of the budget comprises fixed costs like salaries and payments of principal and interest payments on the city's debt, he's still concerned about the portion of the budget that the administration allocates to projects initiated by city council.
"If they go ahead with this, we expect them to do so in a way that respects the ability of our citizens to pay and the fact that that the next, democratically elected administration will have to make decisions on behalf of Laval citizens," Demers declared.
Jean Claude Gobé (left) demanded that city's administration be accountable to elected officials, not civil servants. To his right are fellow Action Laval candidates Nicolino Colasurdo (Duvernay-Pont Viau) and Aglaia Revelakis (Chomedey)
(Photo © Robert Frank)
(function(i,s,o,g,r,a,m){i['GoogleAnalyticsObject']=r;i[r]=i[r]||function(){
(i[r].q=i[r].q||[]).push(arguments)},i[r].l=1*new Date();a=s.createElement(o),
m=s.getElementsByTagName(o)[0];a.async=1;a.src=g;m.parentNode.insertBefore(a,m)
})(window,document,'script','//www.google-analytics.com/analytics.js','ga');
ga('create', 'UA-45892555-1', 'robertfrankmedia.blogspot.com');
ga('send', 'pageview');