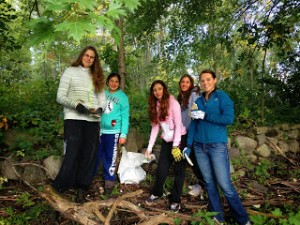 By Robert Frank
www.thesuburban.com
A posse of students from Chomedey's North Star Academy paddled the Mille Îles River, Sept. 25, to remove unsightly litter lining the shore.
The students were all members of North Star's Wildlife Environmental Group (WEG). This is the third year in a row that WEG has participated in a national event called the Great Canadian Shoreline Cleanup (www.shorelinecleanup.ca), one of the largest direct-action environmental activities in Canada.
In 1994, a small team of employees and volunteers at the Vancouver Aquarium decided to clean up a local beach in Stanley Park to help protect the city's shorelines. They submitted the data collected during this event to the International Coastal Cleanup, a global program managed by the Ocean Conservancy.
By 1997, 400 volunteers were participating in 20 sites across British Columbia as
part of the Great BC Beach Cleanup and, in 2002; the Great Canadian Shoreline Cleanup went national, with cleanups in every province and territory. By 2003, it involved more than 20,000 participants.
North Star Academy principal Josée Pépin led her school's participation in this year's event, which marked the Great Canadian Shoreline Cleanup's 20th anniversary. Pépin helped the students remove the litter along the waterway in Ste. Rose.
"By participating in the annual shoreline cleanup, North Star Academy is encouraging its students to think about how their way of life affects the environment," she remarked in a statement.
Students reported finding packaging from a number of Laval fast-food outlets, whom they did not hold responsible for the mess.
"It is not fast-food companies who are to blame," the students added. "Rather, it is our own society which does not provide for proper disposal of such items."
Among the North Star Academy students who cleaned up the waterfront were (left to right) Jessica Tiramani (Sec 3), Riwa Jaafar (Sec 2), Samantha Kahn (Sec 3), Bianca Garabedian (Sec 3) and science teacher Marina Robinson, who supervises the students' environment club.
(function(i,s,o,g,r,a,m){i['GoogleAnalyticsObject']=r;i[r]=i[r]||function(){
(i[r].q=i[r].q||[]).push(arguments)},i[r].l=1*new Date();a=s.createElement(o),
m=s.getElementsByTagName(o)[0];a.async=1;a.src=g;m.parentNode.insertBefore(a,m)
})(window,document,'script','//www.google-analytics.com/analytics.js','ga');
ga('create', 'UA-45892555-1', 'robertfrankmedia.blogspot.com');
ga('send', 'pageview');