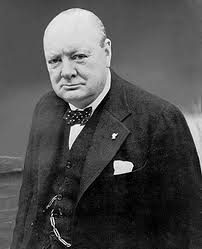 Tips from three famous speakers
By Tracey Arial
www.arialview.ca
Powerful speeches stay popular long after their initial use because of originality, timeliness and character.


The emotion a person has while saying words that mean something adds meaning that goes beyond words written on a page. Speakers who capture a public sentiment, express hope for the future and emphasize his or her own best character traits ensure that people will quote from their speeches for generations to come.
To give you an idea of what I'm talking about, here are three tips from a few of my favourite speakers. You might want to think about them the next time you write a speech.
1) When choosing a theme, think about what your audience needs to hear. Winston Churchill's Blood, Toil, Tears and Sweat speech on May 13, 1940, continues to be remembered as a crucial speech because it emphasized stubborn resistance against improbable odds. Its five critical lines still work as an antidote against giving up.
You ask, what is our policy? I can say: It is to wage war, by sea, land and air, with all our might and with all the strength that God can give us; to wage war against a monstrous tyranny, never surprised in the dark, lamentable catalogue of human crime. That is our policy. You ask, what is our aim? I can answer in one word: It is victory, victory at all costs, victory in spite of all terror, victory, however long and hard the road may be; for without victory, there is no survival.
2) People often recommend telling jokes, reading stories or asking questions to warm up an audience. All of these ways could work, depending on your personality. What's important, however, is a sense of wonder. By building suspense, speeches carry people along almost naturally. For example, Nellie McClung's famous "should men vote" speech worked well because she made a farce of the polite mocking of her adversary, then premier of Manitoba, Sir Rodmond Roblin. Her technique continues to work for anyone striving to make inequalities clear. This is how her speech began:
Gentlemen of the Delegation, I am glad to see you. Glad to see you—come any time, and ask for anything you like. We like delegations—and I congratulate this delegation on their splendid, gentlemanly manners. If the men in England had come before their Parliament with the frank courtesy you have shown, they might still have been enjoying the privilege of meeting their representatives in this friendly way.
But, gentlemen, you are your own answer to the question; you are the product of an age which has not seen fit to bestow the gift you ask, and who can say that you are not splendid specimens of mankind? No! No! any system which can produce the virile, splendid type of men we have before us today, is good enough for me, and if it is good enough for me—it is good enough for anybody.
3) While effective speeches often compel people to action, people hate being told what to do. Mahatma Gandhi's non-cooperation campaign continued even while he was in jail because people copied his actions in part due to a speech that he gave at his sedition trial. The words continue to make us act against injustice to this day.
In my humble opinion, non-cooperation with evil is as much a duty as is co-operation with good. But, in the past, non-cooperation has been deliberately expressed in violence to the evil-doer. I am endeavouring to show to my countryment that violent non-cooperation only multiplies evil and that, as evil can only be sustained by violence, withdrawal of support of evil requires complete abstention from violence.
Those are my tips from famous speeches. Do you have similar hints from some of yours?
(function(i,s,o,g,r,a,m){i['GoogleAnalyticsObject']=r;i[r]=i[r]||function(){
(i[r].q=i[r].q||[]).push(arguments)},i[r].l=1*new Date();a=s.createElement(o),
m=s.getElementsByTagName(o)[0];a.async=1;a.src=g;m.parentNode.insertBefore(a,m)
})(window,document,'script','//www.google-analytics.com/analytics.js','ga');
ga('create', 'UA-45892555-1', 'robertfrankmedia.blogspot.com');
ga('send', 'pageview');