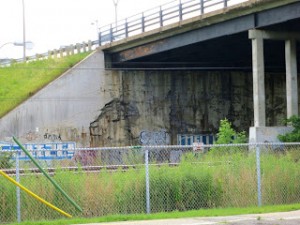 By Matthew Guité
www.thesuburban.com
The city of Pointe Claire has set aside 2.2 million dollars for major reconstruction of the Donegani-St. Jean overpass to fix areas of the overpass which have been worn down over the years and could be a potential danger if not addressed.
The overpass was subject to an assessment last year after crumbling concrete fell from it onto Donegani, and though the initial report cited no danger or cause for concern, the city has decided to take the initiative to repair the aging structure before any more concrete can fall.
The overpass is owned by both the city and by the provincial government, with the areas of the train tracks belonging to Pointe Claire and the area over the highway belonging to the Minister of Transport. Because of this, only the areas owned by the city of Pointe Claire will be repaired.
Speaking to
The Suburban,
Pointe Claire Mayor Bill McMurchie said that after the situation last year where concrete fell from the overpass, it was decided this year to set aside the necessary funds to deal with the wear and tear to the aging structure.
"That overpass is several years old, and like anything that grows older it wears a little bit," he said. "It needs some work, and I can best describe the work by the magnitude of the contract."
The contract was awarded to Construction Dimco Inc. and will begin as soon as the city receives the go-ahead from Canadian Pacific (CP) and the Canadian National Railway Company (CN). Mayor McMurchie said that he could not give a timeline for when the work would begin as they are waiting on authorization from those two companies and did not know how long that might take.
Mayor McMurchie acknowledged that the overpass is a crucial structure for many motorists and is widely used in both directions, but said that there was a chance that the work might close part or the entire overpass for an unknown period of time due to the scale of the reconstruction.
"You don't do that work without some disruption of traffic, but we will endeavour to keep some traffic going as much as possible," he said. "It is an arterial road, and a well-used one as well."
2012 photo of crumbling concrete and exposed, rusting reinforcing rods supporting St. John boulevard overpass straddling Donegani avenue in Pointe Claire.
(Photo © 2012 Robert Frank)
(function(i,s,o,g,r,a,m){i['GoogleAnalyticsObject']=r;i[r]=i[r]||function(){
(i[r].q=i[r].q||[]).push(arguments)},i[r].l=1*new Date();a=s.createElement(o),
m=s.getElementsByTagName(o)[0];a.async=1;a.src=g;m.parentNode.insertBefore(a,m)
})(window,document,'script','//www.google-analytics.com/analytics.js','ga');
ga('create', 'UA-45892555-1', 'robertfrankmedia.blogspot.com');
ga('send', 'pageview');