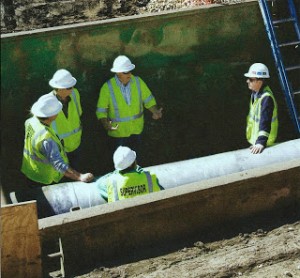 By Robert Frank
www.thesuburban.com
About 300 maintenance workers will spend the summer digging up stretches of the Sarnia-Montreal pipeline that runs through eastern Laval, starting this week.
"It's part of regular, scheduled maintenance, like when you go to the dentist for a checkup," said Éric Prud'homme, spokesman for Enbridge Inc., which owns the line. Prud'homme told The Suburban in an interview that the digs are not related to the company's application to reverse the flow in the pipeline to deliver oil from Western Canada to Suncor's Montreal refinery.
"We do these kind of digs every year, but run special high-tech diagnostic tests every 5-7 years," he said, explaining that Enbridge will be using techniques such as ultrasound and magnetic resonance imaging (MRI), similar to what is used in hospitals and in the space program.
"Think of a snake that goes into the line," he illustrated. "They check the line millimeter by millimeter looking for anomalies—not leaks—that in 5-7 years could become challenges. They're looking for internal or external corrosion, dents and cracks and can detect a crack the size of a pinhole."
"Once that is done, the experts crunch the data and, if needed, expose the pipe completely to check its integrity," Prud'homme continued. "That permits them to use the non-intrusive MRI to check and make a visual assessment."
"Usually there's nothing to worry about," he reassured, "otherwise we'll weld two steel sleeves around the pipeline or replace that segment of pipe."
Prud'homme stressed his company's close collaboration with residents and farmers.
"We have teams in the field right now talking to landowners and surveying the land," he said. "We negotiate where we go and how we enter the property. We provide compensation and conduct an environmental assessment beforehand."
"If there is nesting or an endangered species present, we'll wait before we proceed with the work," Prud'homme reassured. "On agricultural land, we take the topsoil away beforehand, and the final digging is done by hand to minimize risk when we get close to the pipe."
"Once we're done, we replace the top-soil and monitor the environment there for a full year to see that the indigenous species are back and that the ecosystem is the way it was before we started," he noted.
"We don't do this because there's a leak,' Prud'homme emphasized. "We do it to find anomalies, so that they don't become a leak, later on. We'd rather do more of these digs in order to take no risk."
Pipeline maintenance crews equipped with high-tech MRI and ultrasound tools will be digging up parts of Enbridge's Laval pipeline 9B during routine checkups this summer.
(function(i,s,o,g,r,a,m){i['GoogleAnalyticsObject']=r;i[r]=i[r]||function(){
(i[r].q=i[r].q||[]).push(arguments)},i[r].l=1*new Date();a=s.createElement(o),
m=s.getElementsByTagName(o)[0];a.async=1;a.src=g;m.parentNode.insertBefore(a,m)
})(window,document,'script','//www.google-analytics.com/analytics.js','ga');
ga('create', 'UA-45892555-1', 'robertfrankmedia.blogspot.com');
ga('send', 'pageview');