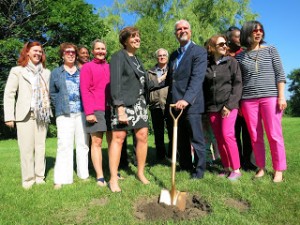 By Robert Frank
www.thesuburban.com
Calling her June 19 sod-turning ceremony "symbolic", Batshaw Youth and Family Centres executive director expects that work crews will begin building its Dorval detention facility, once Quebec's construction strike ends.
"Whenever the construction people are ready, we're ready to work with them," Margaret Douek told reporters who visited Batshaw's Dawson street facility for the emblematic event.
"It will only open in a year from now, depending on when the construction is finalized,"
Batshaw finance and administration director Linda Corbeil told The Suburban.

Corbeil showed detailed plans for the facility, including an outdoor recreation area surrounded by a four-metre fence.
"It's double-mesh, which is difficult to grip," she reassured. "We have to make sure that the youth there cannot leave the premises."
Corbeil explained that Batshaw will face logistical hurdles, from the time its Dorval renovations are complete until its open-custody youth facility in Beaconsfield opens.
"One isn't supposed to have open-and closed-custody clientele together," she said. "Right now the facility serves girls 14-18. We have to ensure that the two clientele are not mixed."
Douek lamented the long and tortuous path Batshaw has taken to get to this point.
"In 2001, the government gave us the green light to go ahead with this project," she recalled. "For seven years we looked for a location where we could consolidate all our units on one site." She said that either community resistance or the lack of a large enough plot of land posed an insurmountable problem so, in 2008, Batshaw opted for a two-site plan, that would put its closed-custody facility in Dorval and an open-custody counterpart in Beaconsfield.
"It's difficult to be turned away by one community after another," Douek complained.
"It took legal experts to get us to this point," referring to a Supreme Court of Canada decision, Feb. 14, to allow Batshaw to proceed, despite strong objections from Dorval residents.
"I'm comfortable saying that this community is going to be safe," Douek asserted, underscoring the importance of "building bridges with the community."
When The Suburban asked why Batshaw met publicly with Beaconsfield residents after only it had filed its bid to build is open-custody youth facility there, she replied "we went to the city."
Batshaw's original plan would have seen the Portage youth addiction centre evicted from its current premises on Batshaw's Beaconsfield property.
However, Beaconsfield city councillors alarmed by the impending eviction intervened on Portage's behalf, and the youth protection agency subsequently relented.
"Portage will remain until Dec. 31, 2014," Corbeil told The Suburban.
Douek added that Batshaw plans to hold more information sessions to explain its plans to Beaconsfield residents.
"We will be meeting with smaller groups, because it's much easier to have an exchange with 12 people versus 100 people," she said.
She added that Batshaw plans to hold another public meeting for Dorval residents, July 10.
In addition to bringing well over 100 new jobs to the West Island, the influx of youth will likely boost enrolment at local schools and alternative programs.
"School boards are excellent partners," Batshaw assistant executive director Lesley Hill told The Suburban, explaining that it's important for Batshaw youth to attend school in the community schools like Beacon Hill, John Rennie, and Lindsay Place.
"We need the help of community schools to try to keep kids in school," she added. "School rupture is a precursor to dropout."
"We try not to send all of them to one school," Hill said, noting that Batshaw youth do volunteer work in the community.
"We also focus on what the youth can give back to the community, not just receive," she concluded.
Batshaw executive director Margaret Douek congratulates attorney Louis Beauregard, who overcame Dorval's legal challenge to building a local youth detention facility.
(Photo © 2013 Robert Frank)
(function(i,s,o,g,r,a,m){i['GoogleAnalyticsObject']=r;i[r]=i[r]||function(){
(i[r].q=i[r].q||[]).push(arguments)},i[r].l=1*new Date();a=s.createElement(o),
m=s.getElementsByTagName(o)[0];a.async=1;a.src=g;m.parentNode.insertBefore(a,m)
})(window,document,'script','//www.google-analytics.com/analytics.js','ga');
ga('create', 'UA-45892555-1', 'robertfrankmedia.blogspot.com');
ga('send', 'pageview');