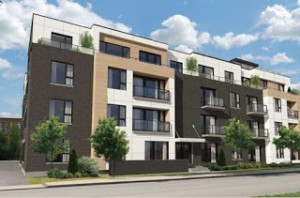 By Tracey Arial
www.arialview.ca
The Borough of Verdun plans to hold a public consultation about new zoning next Tuesday night, the day after the St. Jean holiday. Plans for a condo project on Gordon will be examined in addition to increasing the height restrictions for all buildings located in zone H02-33.
Groupe Quorum wants approval to build a 22-unit four-storey building on three lots, 1,183,941, 1,183,942 and 1,183,943. The last of these lots is where the former CKVL/CKOI radio station once stood. For more information about their plans, check out their website.
Borough councillors are using the project as an incentive to modify all of Zone H02-33. Zone H02-33 covers the entire territory from the west side of Galt to the east side of First Avenue south of the commercial sector on Wellington to the river.
It includes some of the oldest residences in the borough, including a cluster of century-old buildings on the east side of Gordon south of the empty lot where the old CKVL/CKOI radio station once stood.
Just after the station was torn down five years ago, the borough councillors wanted to approve a building on the same site that was six storeys high and occupied the entire lot. They halted the project after residents requested that zoning modifications be approved by referendum.
Residents will have a similar right for this zoning modification. Citizens who want to hold a registry will have five days following publication of the official zoning modification to gather signatures.
Publication of the modification will take place soon after the public consultation, possibly as soon as Thursday, June 27, but perhaps July 4.
(function(i,s,o,g,r,a,m){i['GoogleAnalyticsObject']=r;i[r]=i[r]||function(){
(i[r].q=i[r].q||[]).push(arguments)},i[r].l=1*new Date();a=s.createElement(o),
m=s.getElementsByTagName(o)[0];a.async=1;a.src=g;m.parentNode.insertBefore(a,m)
})(window,document,'script','//www.google-analytics.com/analytics.js','ga');
ga('create', 'UA-45892555-1', 'robertfrankmedia.blogspot.com');
ga('send', 'pageview');