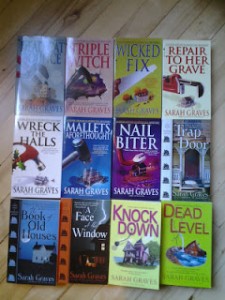 By Tracey Arial
Life in a small Maine town, the life and death risks taken by people who work on the sea and the challenges of raising a teenager whose father used to abuse you, are just some of the insights readers get by reading Sarah Graves'
Home Repair is Homicide
mystery series.
More than all these benefits though, are the many entertaining hints about how we might repair an old house.
The notched side pieces on wooden steps are called stringers. To replace them exactly, use the old ones as templates on new lumber, then cut notches along the lines you've drawn.
Tiptree's Tips
Our sometimes sleuth Jacobia Tiptree spends most of her time repairing her antique house in the town of Eastport. Every now and then she finds a body or stumbles onto crooks and becomes an amateur detective.
The stories are funny, surprisingly-light given their complicated content. The characters are surprisingly life-like too. I feel like I know Jake, as Jacobia is called, Sam, Ellie and George who are key characters in every story.
The series includes:
The Dead Cat Bounce, 1998
Triple Witch, 1999
Wicked Fix, 2000
Repair to Her Grave, 2001
Wreck the Halls, 2001
Unhinged, 2003
Mallets Aforethought, 2004
Tool and Die, 2005
Nail Biter, 2006
Trap Door, 2006
The Book of Old Houses, 2007
A Face at the Window, 2008
Knock Down, 2011
Dead Level, 2011
A Bat in the Belfry, 2012
For more information, refer to the author's website.
(function(i,s,o,g,r,a,m){i['GoogleAnalyticsObject']=r;i[r]=i[r]||function(){
(i[r].q=i[r].q||[]).push(arguments)},i[r].l=1*new Date();a=s.createElement(o),
m=s.getElementsByTagName(o)[0];a.async=1;a.src=g;m.parentNode.insertBefore(a,m)
})(window,document,'script','//www.google-analytics.com/analytics.js','ga');
ga('create', 'UA-45892555-1', 'robertfrankmedia.blogspot.com');
ga('send', 'pageview');