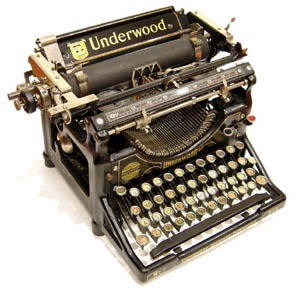 By Tracey Arial
www.traceyarial.com
What in the world do I mean by "technical tools" for writers?
There are many possible tools a writer might use, including a dictionary, a thesaurus and a desk (either standing or sitting) and chair or large ball, but that's not what I'm talking about here.
Technical tools include: a typewriter or one or many computers with text editing or word processing software installed, a digital tape recorder, a mobile or land-line telephone, a camera, an e-reader, digital pens and transcription software.
Typewriter or one or many computers
I suppose you could write with a pencil or pen and a piece of paper, but you wouldn't be able to distribute your work very easily.
Some writers still use only typewriters and then secretaries scan or retype their work into a typewriter. That's particularly old school, but it works.
Most of us have one or more computers with text editing or word processing software installed. I have a desktop computer, because I prefer typing on a Microsoft Natural Ergonomic keyboard.
Check out the one I have here:
http://www.microsoft.com/hardware/en-us/p/natural-ergonomic-keyboard-4000
It hurts my wrists and elbows less than other keyboards.
I also still use my first laptop computer, which at this point is more of a luggable. It still works well, so I even replaced the battery on it recently, even though my husband said it was a waste of time and I should have invested in something new instead. I hate change, so I'm resisting a bit longer.
Just for interest sake, it's a Toshiba Satellite A40 in a "cool blue design."
Check it out at: http://www.toshiba.ca/web/product.grp?lg=en&section=1&group=223&product=2590&part=2190
Wordprocessing Software
I use Word, Open Office Writer and Wordpad frequently.
Printer/Scanner
I used to have a separate scanner and printer, but now I have a Lexmark all-in-one that includes a fax and copy machine too. I didn't think I'd use those features, but they both came in handy once when a client didn't have email. (Who doesn't have email these days?)
Digital tape recorder
I used to use a Sony digital recorder, but it was a pain to transfer interviews so I switched to a Roland Edirol R-09, which I absolutely adore. If you need a tape-recorder, this one works great. Note: some people have broken the door for the battery and SIM card compartment, but I've had mine for years now and that hasn't happened yet. (Crossing my fingers as I type this, which is quite a trick.)
Here's a link to the product:
http://www.rolandus.com/products/details/757
(I have the red one.)
SIM Cards
I forgot to mention SIM Cards. I need them for my tape recorder and my camera. It's good to stock up.
Mobile or land-line telephone
My mobile phone is a Samsung Galaxy that runs on Android. Love it—although I had to invest in software to transfer tasks and meetings from Outlook. It was worth it.
My home phone is an Uniden. It's fine.


Headset for computer and telephone
Again, I have three. Haven't found one I like yet.
Camera
I have a Sony digital handheld camera model DSC-H5 and a video camera too, but these days I tend to just use the camera and video functions on my phone. (My photography and video skills suck though, so don't copy me.)
E-reader
I adore my Kobo. It became even more useful after I downloaded Adobe Digital Editions onto my desktop so that I could read PDFs on the little thing.
Digital pen
People rave about these, but I haven't tried them yet.
Transcription software
Ditto.
What tools do you rely on?
(function(i,s,o,g,r,a,m){i['GoogleAnalyticsObject']=r;i[r]=i[r]||function(){
(i[r].q=i[r].q||[]).push(arguments)},i[r].l=1*new Date();a=s.createElement(o),
m=s.getElementsByTagName(o)[0];a.async=1;a.src=g;m.parentNode.insertBefore(a,m)
})(window,document,'script','//www.google-analytics.com/analytics.js','ga');
ga('create', 'UA-45892555-1', 'robertfrankmedia.blogspot.com');
ga('send', 'pageview');