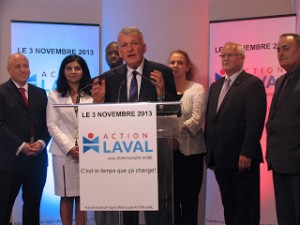 By Robert Frank
www.thesuburban.com
If slow and steady wins the race, then Jean-Claude Gobé's circumspection might earn him the mayor's chair, come November.
Last month, he told The Suburban that he was taking a careful, methodical approach to recruiting candidates to run as municipal councillors for his Action Laval party, during this fall's municipal election.
At a news conference last week, Gobé presented the first six members of his slate:
Former world judo champion Julius Bute will seek election in Pont Viau-Duvernay district. In addition to being fluent in both official languages, Bute also speaks Italian, Hungarian as well as his native Romanian, and is currently studying Spanish and Japanese.
Kloda Focus vice-president Archie Cifelli will run in Val des Arbres district. The Val des Brises resident has been a prominent member of many community organizations for more than a decade.
Communatique ceo Monique Chartrand, 53, will run in Marigot district. Action Laval said in a statement that she has been involved in the community for more than 35 years, and for the past decade has encouraged citizen involvement through new technology.
St. Francois Basketball Association founder Éric Denis, 35, will carry Action Laval's banner in that eponymous district. A 22-year Laval resident, he also helped to found St. François in Action. In addition, the high school English teacher has for several years been involved in the Laval Youth Forum.
Civil engineer Fayçal El-Khoury, who will seek election in Laval des Rapides district, has run his own residential development business for the past 13 years, and serves as a consultant Alrasheed Group.
Chomedey's contender will be Aglaia Revelakis. A political activist who spent a decade serving Laval's Greek community, she currently manages the Manior Laval's seniors residence.
Gobé's clearly has noticed the changing face of Laval. Recently published results of the 2011 census revealed that the city is attracting a large number of non-francophones. Their proportion of the population of Quebec's third-largest city jumped to about 40 percent that year, up from about 30 per cent in 2006.
Action Laval's candidates studiously mirror the city's rapidly shifting demographics. Jean-Claude Gobé (centre) announced, June 12, that he will be joined by (left to right) Archie Cifelli (Val des Arbres), Aglaia Revelakis (Chomedey), Éric Denis (St. François), Monique Chartrand (Marigot), Julius Bute (Pont Viau-Duvernay) and Fayçal El-Khouri (Laval des Rapides).