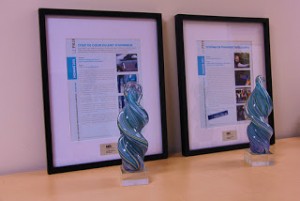 By Robin Della Corte
www.thesuburban.com
The Canadian Urban Transit Association has recognized Société de transport de Laval (STL) for its accomplishments in making transport accessible to commuters.
STL was also singled out for three other awards by the Association Québécoise Du Transport. The awards were for the marketing and communications of their project "Lets Develop Together!", which last year that helped to help identify residents' main transportation interests.
STL was also recognized for its efforts to improve transportation in Laval by creating a carpooling system called CLIC. The program's goal is to form four-member teams of people who live in the same district in Laval and travel at the same time between homes.
"We're so pleased by this recognition," STL spokeswoman Marie-Céline Bourgault said. "We're proud that the STL is being acknowledged for its efforts to help improve the quality of transportation in Laval."
Bourgault explained that the STL is very interested in its clients and is always trying to improve its response to their needs.
"It is very important for us that the clients are satisfied," Bourgault said. "Earning these awards tells us that we're doing something right."
The Association Québécoise Du Transport bestowed its Coup de cœur du jury d'honneur for STL's new CLIC car polling service, which helped to make life easier for Laval commuters.
(function(i,s,o,g,r,a,m){i['GoogleAnalyticsObject']=r;i[r]=i[r]||function(){
(i[r].q=i[r].q||[]).push(arguments)},i[r].l=1*new Date();a=s.createElement(o),
m=s.getElementsByTagName(o)[0];a.async=1;a.src=g;m.parentNode.insertBefore(a,m)
})(window,document,'script','//www.google-analytics.com/analytics.js','ga');
ga('create', 'UA-45892555-1', 'robertfrankmedia.blogspot.com');
ga('send', 'pageview');