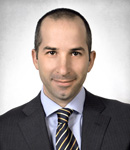 Pulls plug after allegations of criminal wrongdoings in Laval


By Robert Frank
www.thesuburban.com
Through Laval's darkest days during the past few months, reporters could consistently count on one person in the mayor's office for a prompt, professional response to the thorniest question du jour.
Soon, that person, Pierre-Philippe Lortie, will be gone.
Lortie, who serves as spokesman for mayor Alexandre Duplessis, is an employee of Canada's largest public relations firm, NATIONAL. The company is known for providing top-quality PR talent either as consultants or—as in Lortie's case—seconding one of their staff to work inside the organization that they are serving.
Top-quality comes at a price, and NATIONAL has billed top-dollar, invoicing Laval significant sums for various communication projects during the past few years such as the La Pinière water treatment plant, the Cosmodôme, the Highway 25 bridge, the sports and culture complex and Laval's sustainable urban development plan. The cost of that communication expertise reportedly totaled more than $7 million during the past decade.
Despite its lucrative relationship with Quebec's third-largest city, NATIONAL nonetheless issued a news release June 11, announcing that it will pull the plug on its contract, even though it has another nine months to run.
"Given the effect of the trusteeship of the City of Laval and the fact that the position of city manager is vacant, NATIONAL feels that the current context no longer favours the delivery of services based on well-defined strategic orientations or in support of structuring projects," NATIONAL vice-president Roch Landriault said in the statement.
Lortie told The Suburban that he would remain at city hall for 30 days, while a successor is sought.
According to Nadine Lussier, the city's spokeswoman for non-political matters, Lortie's predecessor, Johanne Bournival, a retired Canadian Army senior public affairs officer who served equally ably through tempestuous times as Mayor Gilles Vaillancourt's spokeswoman, was a city employee and was not seconded by NATIONAL.
Pierre-Philippe Lortie
(function(i,s,o,g,r,a,m){i['GoogleAnalyticsObject']=r;i[r]=i[r]||function(){
(i[r].q=i[r].q||[]).push(arguments)},i[r].l=1*new Date();a=s.createElement(o),
m=s.getElementsByTagName(o)[0];a.async=1;a.src=g;m.parentNode.insertBefore(a,m)
})(window,document,'script','//www.google-analytics.com/analytics.js','ga');
ga('create', 'UA-45892555-1', 'robertfrankmedia.blogspot.com');
ga('send', 'pageview');