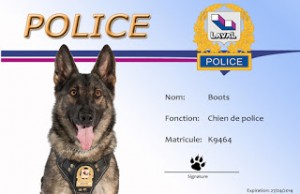 Laval police beat:
Joy riders, armed assaults, robberies and motorcycle crash


By Robert Frank
www.thesuburban.com
His name is Boots and he works for the Laval police department.
Together with his handler, Lt. Benoît Martel—head of the Laval police canine squad—the German shepherd helped to find and arrest two 20-year-old men whom police suspect broke in to a home at 3824 Caron in St. François district, May 31.
"At 11:20 a.m., a neighbour who was working on his lawn spotted the two young men, whom he thought looked suspicious," Const. Franco di Genova told The Suburban. When they noticed that they were being observed, they high-tailed it to a nearby park."
"A few minutes later, the man witnessed the two suspects reappear, after they jumped over his neighbour's fence, carrying a backpack," he continued. "He intercepted the suspects with the backpack and tried to wrestle it off his shoulder."
"The second suspect then arrived on bicycle and started to punch the witness," stated Const. di Genova. "Both subsequently fled: one on foot, the other on bicycle."
"The witness called 911, which dispatched Lt. Martel and Boots, who were nearby," he recalled. "The cyclist was arrested a block or two from the crime scene; the other suspect was found hiding underneath a balcony on the next street over. The backpack contained jewelry, iPods and tools—everything stolen from the house."
Boots put the bite on burglars.



Joy riders


"At 3:45 p.m., June 1, officers who were dispatched to 107 Curé Labelle in Ste. Rose to take an automobile accident report sensed that something was amiss about the three young occupants of the Toyota Rav-4," said Const. di Genova.
"They called the owner of the vehicle, who resides in St. Joseph du Lac. The owner looked outside and discovered that the vehicle was no longer in his driveway."
Const. di Genova said that the three males, aged 13, 17 and 23, were charged with theft.
Armed assault, robbery
A man who won $2,653 at gaming machines at Café Course, 1545 le Corbusier, came close to losing his winnings abruptly, June 1.
"The victim went outside to smoke around 11:50 p.m., whereupon a robber tried to relieve him of his prize money," said Const. di Genova. "Two of the victim's friends were also outside. A scuffle ensued in which the victim suffered a slight cut to the abdomen."
"Officers arrested the 33-year-old suspect and have charged him with armed robbery and armed assault."
Motorcyclist survives solo crash
Also on June 1, a 23-year-old man survived a motorcycle accident.
"He was driving a motorcycle at a high rate of speed, when he lost control near 3745 Dagenais West," said Const. di Genova. "He ended up colliding with a tree."
"The tree was undamaged, but the man was treated for multiple fractures to the left arm and collarbone," he added. "He was lucky."
Female pedestrian assaulted, robbed
Also on June 1, a man accosted a young woman walking along Rivard Street near Rivard Park in Pont Viau, around 11:30 p.m.
"He approached her from behind, hit her, stole her wallet and fled on foot with about $50," said Const. di Genova. "She was not seriously hurt."
"The suspect was a black, French-speaking 40-year-old with a pot-belly," he said. "He wore red basketball shorts, a t-shirt with writing in front and a black baseball cap."


(function(i,s,o,g,r,a,m){i['GoogleAnalyticsObject']=r;i[r]=i[r]||function(){
(i[r].q=i[r].q||[]).push(arguments)},i[r].l=1*new Date();a=s.createElement(o),
m=s.getElementsByTagName(o)[0];a.async=1;a.src=g;m.parentNode.insertBefore(a,m)
})(window,document,'script','//www.google-analytics.com/analytics.js','ga');
ga('create', 'UA-45892555-1', 'robertfrankmedia.blogspot.com');
ga('send', 'pageview');