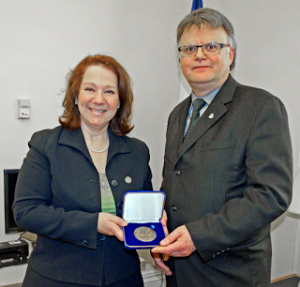 "A 21st-century Sherlock Holmes"

By Robert Frank
www.thesuburban.com
Ste. Rose riding's MNA in Quebec City rose in the Assembly, June 6, to honour a Laval resident for his contribution to the international intelligence industry.
"Mr. Speaker, today I had the privilege of awarding the National Assembly Medal to Dr. Robert Boily," Suzanne Proulx told fellow legislators.
"In 2008, Dr. Boily, the founding president of Inforex, was the first francophone to receive Sigma Xi's prestigious McGovern medal in Washington, in recognition of his extraordinary contributions to and his body of accomplishments in research, analysis and communication of scientific and technological acumen."
"Dr. Boily thus joined the ranks of an elite that includes 200 Nobel laureates," she noted.
"A 21st century Sherlock Holmes and unquestioned authority in his field, he undertakes ultra-sensitive, top-secret missions assigned by leaders in the widest variety of sectors, including aerospace, biotechnology, robotics, nanotechnology and medical imaging. He gathers information that no other person could or would discover."
Dr. Boily, who serves as a honourary aide-de-camp to the Lieutenant-Governor of Quebec, the Hon. Pierre Duchesne, has previously received a number of other distinctions recognizing his accomplishments.
He is a fellow of the U.S. Armed Forces Communications and Electronics Association (2004), the World Academy of Art and Science (2005), the American Association for the Advancement of Science (2005), the World Innovation Foundation (2006) and the Royal Society of Arts (2007).
Dr. Boily was previously made a knight of the Ordre de la Pléiade (2008), an honour bestowed by a Luxembourg-based association of French-speaking parliamentarians. In 2012, he received the Queen Elizabeth II Diamond Jubilee Medal in recognition of 35 years of work toward the advancement of science.
His work was also acknowledged locally as far back as 2000, when the Laval Chamber of Industry and Commerce awarded him the Dunamis Prize.



MNA Suzanne Blais awards the National Assembly Medal (below) to Dr. Robert Boily.
National Assembly Medal
McGovern Medal placed Dr. Boily in prestigious company in 2008.
Ordre de la pléiade
(function(i,s,o,g,r,a,m){i['GoogleAnalyticsObject']=r;i[r]=i[r]||function(){
(i[r].q=i[r].q||[]).push(arguments)},i[r].l=1*new Date();a=s.createElement(o),
m=s.getElementsByTagName(o)[0];a.async=1;a.src=g;m.parentNode.insertBefore(a,m)
})(window,document,'script','//www.google-analytics.com/analytics.js','ga');
ga('create', 'UA-45892555-1', 'robertfrankmedia.blogspot.com');
ga('send', 'pageview');