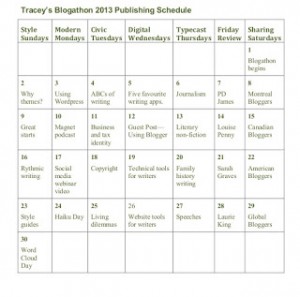 By Tracey Arial
www.traceyarial.com
WordCount's 2013 blogathon begins today.
As a participant, I'll be posting daily thoughts about writing for the next month.
There are a hundred of us from around the world, though mostly in the United States and Canada (hello Portland and Guelph), doing the same thing. You can follow our conversation on Twitter through #blog2013 or check out WordCount founder Michelle Rafter's blog. Today, Michelle will publish a blog roll of participants. This year, she's decided to list us in groups so that people can network more easily.
Second Year in Blogathon
After successfully completing the challenge last year, I'm psyched for another year, but I'll be taking a different approach.
Last year at this time, this blog was new and I didn't know whether posting every day was possible. It was a great accomplishment to publish 30 posts in 30 days.
After creating a habit of regularly posting to the community portions of my website, I've decided to use the 2013 Blogathon to create more writer-specific resources for readers.
What can you expect over the next 30 days?
An outline of what you can expect appears in the publishing schedule below.
I hope this schedule will encourage you to check back here frequently. Please consider cross-posting your own articles on my blog when it makes sense too. Together, perhaps we can launch a meaningful conversation about the importance of written works to our communities.
(function(i,s,o,g,r,a,m){i['GoogleAnalyticsObject']=r;i[r]=i[r]||function(){
(i[r].q=i[r].q||[]).push(arguments)},i[r].l=1*new Date();a=s.createElement(o),
m=s.getElementsByTagName(o)[0];a.async=1;a.src=g;m.parentNode.insertBefore(a,m)
})(window,document,'script','//www.google-analytics.com/analytics.js','ga');
ga('create', 'UA-45892555-1', 'robertfrankmedia.blogspot.com');
ga('send', 'pageview');