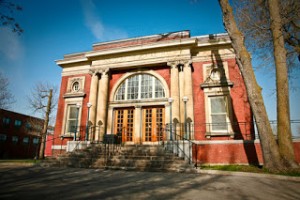 By Tracey Arial
www.thesuburban.com
The administration of the Douglas Mental Health University Institute in Verdun is planning a wide-spread public consultation next autumn.
"We have two principal objectives in this process: to build a two-way respectful relationship with our neighbours and to get their input on our development," says Marie France Coutu, Douglas Hospital's acting director of communications. "There will be no restrictions on the discussion."
The plan was presented to its board of directors at its last meeting on Wednesday May 15.
Coutu says that board members approved the idea, but they are worried about how the consultation process might work.
"There were several comments from the board," said Coutu. "They were very concerned that this would be a real consultation and not just a pr exercise but also that citizens recognize that they don't have decision-making powers."
If the process does work, it will overturn a sense of distrust that has evolved between local citizens and the Douglas since 2005, when the organization tried to sell a third of its territory to developers. If it had gone through, that proposal would have removed hundreds of community garden plots to make room for a residential street of condominiums. More than 500 Verdun residents showed up at Verdun City Hall to stop the project. Then-mayor Claude Trudel promised to make the entire Douglas Hospital property institutional land instead. One patch on the northeast corner of the property remains officially zoned parkland.
The Crawford Park Heritage Protection Committee was behind the initial mobilization and the citizen group still exists.
Its president, Christian Nadeau, attended the recent board meeting and saw Coutu's presentation about the citizen consultation. He's hopeful that it marks the beginning of more transparent governance on the part of the Douglas Institute.
"The new management seems to have a more open attitude towards citizen concerns and that's good," said Nadeau. "It would be better if an advisory committee with experts in architecture, heritage and landscape could be created as well to advise management for the future."
Nadeau said that the Douglas Research Institute has already paid a heritage and ecological expert for their opinion on the future development of its green space and buildings, but such people need to be involved throughout the process. He says that he and the citizens involved on his committee are waiting to see what kind of process will be established.
"The Douglas Research Institute is part of McGill University. I'm sure that there are lots of people there who would be interested in helping make this facility the Montreal landmark it could become."
(function(i,s,o,g,r,a,m){i['GoogleAnalyticsObject']=r;i[r]=i[r]||function(){
(i[r].q=i[r].q||[]).push(arguments)},i[r].l=1*new Date();a=s.createElement(o),
m=s.getElementsByTagName(o)[0];a.async=1;a.src=g;m.parentNode.insertBefore(a,m)
})(window,document,'script','//www.google-analytics.com/analytics.js','ga');
ga('create', 'UA-45892555-1', 'robertfrankmedia.blogspot.com');
ga('send', 'pageview');