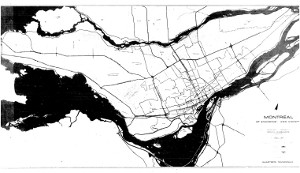 By Tracey Arial
Interested in having a say about real estate development over the next twenty years in the City of Montreal?
The Office de consultation publique de Montréal (OCPM) will begin a full-scale consultation into Montreal's Development Plan next week.
Everything will be posted to the OCPM website as hearings proceed. For the first time, the site will also distribute open data, including a map that you can download into Google Earth and then use it to emphasize your own presentation.
"Our consultations always have two parts," said Gilles Vézina, a research and documentation agent from the OCPM. "We begin with information meetings to inform people about the consultation. Then, we have a second part to hear their comments and receive memorandums."
The information sessions take place during the first week of June at Centre Mont Royal.
Citizens will then have until August 28 to submit their comments or memorandums.
Comments and memorandum hearings will take place at the OCPM offices on the 14th floor at 1550 Metcalfe, beginning at 7 p.m. on Tuesday, September 4, and continue for as many sessions as will be required.
The whole process gets underway on Monday, June 3 at Centre Mont-Royal, 2200 Mansfield from 7-10 p.m., when the city of Montreal will describe the Montreal Development Plan. No registration is required for citizens to attend that evening.
Citizens do have to register for the forums that will take place on Tuesday and two Wednesdays to follow. All of them happen at Centre Mont-Royal at 220o Mansfield.
On Tuesday, June 4, beginning at 9 a.m., Montreal leadership will be discussed in a public forum. At 1:30 p.m., a discussion about the economy of Montreal will commence.
On Wednesday, June 5, two sessions are planned: Public transportation in compact cities (9 a.m.); and heritage and cultural protection (1:30 p.m.).
The last two spring forums take place on Wednesday, June 12: Natural heritage protection at 1:30 p.m.; and climate change adaptation at 7 p.m.
Consultation hearings will open at 7 p.m., September 4, in the OCPM offices at 1550 Metcalfe, 14th floor.
This is how Montreal was divided municipally in 1600.
(function(i,s,o,g,r,a,m){i['GoogleAnalyticsObject']=r;i[r]=i[r]||function(){
(i[r].q=i[r].q||[]).push(arguments)},i[r].l=1*new Date();a=s.createElement(o),
m=s.getElementsByTagName(o)[0];a.async=1;a.src=g;m.parentNode.insertBefore(a,m)
})(window,document,'script','//www.google-analytics.com/analytics.js','ga');
ga('create', 'UA-45892555-1', 'robertfrankmedia.blogspot.com');
ga('send', 'pageview');