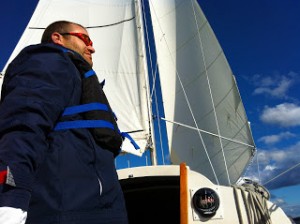 By Robin Della Corte
www.thesuburban.com
Thirty-six-year-old Sébastien Guy, director of communications for JPR Doors, is helping to raise money for the Mélio Foundation by sailing across the Atlantic Ocean in 15 days.
Each year, JPR Doors does fundraising, however this year marks two firsts: they are fundraising for Mélio Foundation, which supports the Ste. Justine Children's Hospital's Marie Enfant Rehabilitation Centre (CRME); and having a staff member traverse the Atlantic.
"I'm a big fan of sailing," Guy said. "But I didn't just want to do it for its own sake, I wanted to link it with this fundraiser, and I did."
Guy will set sail on this journey with his friend Pierre de Ruelle, whose boat War Eagle will travel 2,500 miles (4,630 km) in less than 15 days. The sturdy 43-foot boat will cast off from St. John, Newfoundland, June 15 and proceed directly to Brest, France.
Fundraising commenced May 6 and will continue until June 30. Guy hopes to attract at least $25,000 in donations, and said that he has already received $12,000. Contributors can sponsor his quest by visiting its Facebook page.
"My company has been incredible," Guy said. "My boss has given me all the support that I needed. I'm so thankful."
Ruelle, who, like Guy, enjoys sailing, has won races across Canada and garnered best sailor laurels in 1984, Guy claimed.

"I feel good about this," Guy said. "I'm putting my life in nature's hands right now, and everything depends on the weather.
[The Atlantic crossing] is one of my main life objectives, and I need to do it at least once in my life."
Though the transatlantic sea journey will be Guy's first, Ruelle is a true salt, for whom this will be his 11th crossing.
During the trip, each member will alternate four hours each at the helm, while the other rests and prepares food. This rotation will continue for 15 days until they reach their destination. Au Petit Extra restaurant will supply the ships food. Guy claims that heavy swells can reach 20-30 feet.
Guy added that he will be able to contact his doctor at any time by satellite phone, if needed.
"It's won't be easy," said he admitted. "But it's something that I always wanted to do. We only live once, after all."
JPR Doors' Sébastien Guy aims to raise $25,000 for sick kids by crossing the Atlantic in a sailboat.
(function(i,s,o,g,r,a,m){i['GoogleAnalyticsObject']=r;i[r]=i[r]||function(){
(i[r].q=i[r].q||[]).push(arguments)},i[r].l=1*new Date();a=s.createElement(o),
m=s.getElementsByTagName(o)[0];a.async=1;a.src=g;m.parentNode.insertBefore(a,m)
})(window,document,'script','//www.google-analytics.com/analytics.js','ga');
ga('create', 'UA-45892555-1', 'robertfrankmedia.blogspot.com');
ga('send', 'pageview');