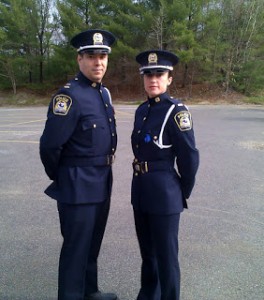 By Robert Frank
www.thesuburban.com
Officers from various police forces that serve the Montreal region joined their brothers- and sisters-in-arms from across North America, April 24, to mourn the death of Massachusetts Institute of Technology (MIT) patrol officer Sean Collier.

Authorities said that the 26-year-old was shot and killed by the suspects in the Boston Marathon bombings.

"Officers came from all across the United States as well as Canada to share the grief," Sgt. Frédéric Jean, who attended the funeral together with fellow Laval police officer Lt. Ana Rodrigues, told The Suburban in an interview. "The people from Massachusetts thanked us profusely for coming all the way from Canada."

Sgt. Jean and Lt. Rodrigues were part of a contingent of about four dozen police officers from Laval, Montreal and Longueuil municipal police services, as well as members of the Sûreté du Québec and Royal Canadian Mounted Police.
Don't hand terrorists victory


Security remained tight as U.S. Vice-President Joe Biden gave a moving eulogy to the more than 10,000-person throng.

"He spoke for 30 minutes, about two main points," Sgt. Jean recalled.

"First was that the values of freedom which police forces exemplify are shared by everyone, especially in a place like MIT, where they keep students from all over the world safe while they study at one of the most prestigious technical universities in the world."

"Second, he urged that our nation's don't succumb to terrorism by becoming close-minded toward other nations, because that would hand the terrorists a victory, and play into the hands of other nations that harbour a profound hatred of our freedoms."

"He said that they want our culture to become more insular, and for us to create barriers at our borders," Sgt. Jean continued. "Then he made a joke, thanking members of police services from everywhere in the country as well as from places outside the United States like New Hampshire and Canada."

"I have never heard such an emphatic and moving speech," he concluded.
Sgt. Frédéric Jean and Lt. Ana Rodrigues represented fellow Laval police officers in Massachusetts
About four-dozen Laval, Montreal, Longueuil, Sûreté du Quebec and RCMP police officer boarded a Boston-bound bus at 2 a.m., April 24, to get to MIT Patrol Officer Sean Collier's funeral in time. They arrived back in Montreal at 1 a.m., the following morning.
More than 10,000 police officers from across North America heard a moving eulogy from U.S. Vice-President Joe Biden.
(function(i,s,o,g,r,a,m){i['GoogleAnalyticsObject']=r;i[r]=i[r]||function(){
(i[r].q=i[r].q||[]).push(arguments)},i[r].l=1*new Date();a=s.createElement(o),
m=s.getElementsByTagName(o)[0];a.async=1;a.src=g;m.parentNode.insertBefore(a,m)
})(window,document,'script','//www.google-analytics.com/analytics.js','ga');
ga('create', 'UA-45892555-1', 'robertfrankmedia.blogspot.com');
ga('send', 'pageview');