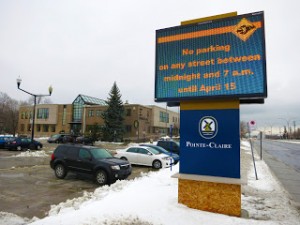 Robert Frank
www.thesuburban.com
Beaconsfield can now warn all its citizens of a serious emergency within an hour, thanks to the automated call system it implemented, March 25.
"It will probably take much less than an hour to phone every publicly listed number in the city," city manager Patrice Boileau told The Suburban in an interview, "because the system can call all 6,000 homes simultaneously."
He explained that CodeRed, the Florida company which provides the service, "has something like 1 million phone lines available to make the calls."
The implementation of the system was approved by Beaconsfield city council last year, Boileau recalled, "at a cost of about $10,000."
He indicated that the system can be tweaked to limit calls to only those citizens who are affected by a local emergency, as little as a single street, in the event of a water main break. It can also warn of environmental accidents, gas leaks public health emergencies or other disasters.
West Island municipalities have bolstered their emergency notification capacity after they faced criticism in late 2011, after sequential automated telephone call systems failed to notify citizens quickly enough of a boil-water alert.
Skirts privacy concerns
By only providing publicly available information to the Florida firm, Beaconsfield has avoided the backlash that Lester B. Pearson School Board faced three years ago, when it engaged a United States firm to provide a callout service to its students' families.
Under the Patriot Act, signed into law by President George W. Bush a month after the September 11, 2001, attacks, American firms like CodeRed can be required to disclose all the personal information that they store in their databases to the U.S. Department of Homeland Security.
"The CodeRed database system only contains publicly listed numbers of landlines in our territory," Boileau emphasized.
"However, if your phone number is not in the database, you will not be called," he cautioned.
In the interest of safety, he strongly advised residents to visit the City's website www.beaconsfield.ca to add their cellular or unlisted telephone numbers to the CodeRed file.
"Residents will then be notified rapidly in case of an emergency by a call at home, on their cell, or on both phones," Boileau concluded.
Pointe Claire introduced an electronic notice-board system in 2012, a year after the city's automated phone systems didn't warn residents quickly enough about a boil-water alert.
(function(i,s,o,g,r,a,m){i['GoogleAnalyticsObject']=r;i[r]=i[r]||function(){
(i[r].q=i[r].q||[]).push(arguments)},i[r].l=1*new Date();a=s.createElement(o),
m=s.getElementsByTagName(o)[0];a.async=1;a.src=g;m.parentNode.insertBefore(a,m)
})(window,document,'script','//www.google-analytics.com/analytics.js','ga');
ga('create', 'UA-45892555-1', 'robertfrankmedia.blogspot.com');
ga('send', 'pageview');