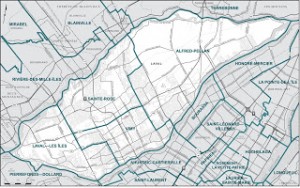 By Robert Frank
www.thesuburban.com
Laval's four federal ridings will get a remake, once the Federal Electoral Boundaries Commission (FEBC) for Quebec's proposals are adopted.
Gone completely from the electoral map is Marc Aurèle Fortin riding, according to the report the commission tabled in Ottawa, Feb. 25.
According to the document, the electoral district will be pieced out to the two neigbouring ridings, with Alfred Pellan getting the eastern half, and the west end becoming the new riding of Sainte Rose, north of the Laval Autoroute.
Name changes figured prominently among FEBC's other recommendations.
FEBC opted for the status quo in Laval-Les Îles, despite a push to rebrand the riding after Jesuit priest Paul Ragueneau.
However, after receiving demands to recognize the contributions of veterans, during FEBC hearings in Montreal, last fall, the commission opted to change the name of Laval riding to Vimy.
The move commemorates the World War I
Battle of Vimy Ridge
, a landmark victory, where soldiers from Quebec's
Royal 22nd Regiment
were among the country's first soldiers to be led into the fray by a Canadian, rather than a British, commander.
The commissioners rejected another proposal to redub Laval riding Saut au Récollet, after historians pointed out that the name referred to a location in Montreal.
"Changes are being made to 64 of [Quebec's] 75 existing electoral districts," commission chair Hon. Jules Allard said in a statement.
"In addition, three new electoral districts are being created in the province: Châteauguay-Lacolle, Terrebonne and Mirabel," he continued, reflecting Quebec's burgeoning population in the 450 area code region ringing Montreal and Laval.
"In attempting to bring the direction of our mandate in line with the preferences expressed by speakers at the public hearings or contained in the documents addressed to us, we chose to harmonize the objectives of equitable representation with those of effective representation," Allard concluded.
Veterans get recognition at long last, as Laval riding name to commemorate pivotal Vimy victory.
(function(i,s,o,g,r,a,m){i['GoogleAnalyticsObject']=r;i[r]=i[r]||function(){
(i[r].q=i[r].q||[]).push(arguments)},i[r].l=1*new Date();a=s.createElement(o),
m=s.getElementsByTagName(o)[0];a.async=1;a.src=g;m.parentNode.insertBefore(a,m)
})(window,document,'script','//www.google-analytics.com/analytics.js','ga');
ga('create', 'UA-45892555-1', 'robertfrankmedia.blogspot.com');
ga('send', 'pageview');