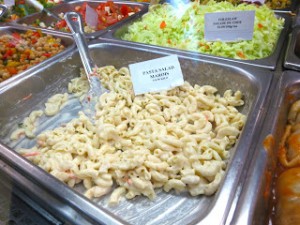 OQLF still persecuting deli owner after 36 years


By Robert Frank
www.thesuburban.com
"Bill 14 is more of a threat than anything else that is going on right now, and I don't think that my English-speaking friends are aware of it," Harry Schick told The Suburban in an interview.
Schick, who has for 50 years operated Swiss Vienna Patry and Delicatessen in Pointe Claire, again gained national and international notoriety last week, when he dubbed one of his dishes Pasta Salad Marois, after Quebec language police sent him a letter telling him that using the word 'pasta' on signs in his store is prohibited in the province.
"We put a photo of the salad on Facebook and got 19,500 likes within 24 hours," he smiled. "Customers, both French and English, have flocked to the store—150 on Friday alone—and we're selling more pasta than ever before."
Schick is no newcomer to receiving nastygrams from Quebec culture officials. Language inspectors began to visit his store soon after the first Parti Québécois government passed Bill 101 in 1977, he said.
"They never stopped."
Tongue troopers have relentlessly pressed complaints about the sign beside the entrance to Swiss Vienna, which says 'Welcome' in 35 languages "including the original languages of Quebec: Cree and Inuktitut," Shick said.
"The cases never stopped because there has never been a Supreme Court of Canada judgment about it," he explained. For example, charges against his welcome messages were dismissed years ago, after his lawyer showed that the Quebec tourism department had placed an advertisement urging foreigners to visit the province by using a similar multilingual message of hospitality.
"Why fear the truth?"
"Though the province's language laws are billed as a means to build up francophones," Shick said, "are they in fact a means to degrade English in Quebec?"
"How does a Panini sign affect French in Quebec?" asked the Belgian native, whose mother tongue is French. "If it does, this province is in big trouble. They want every French sign to be three times the size of English. My staff speak five or six languages, and my anglophone and francophone customers are of equal stature."
"A lot of people are afraid to hear the truth," Shick asserted. "During the past three-and-a-half decades, I have been interviewed by all kinds of national and international news outlets, including National Geographic, the Washington Post and Reuters. During that period, not a single francophone news outlet in Quebec has ever called."
"Likewise, no newspaper has ever asked the OQLF under Quebec's access to information
law to show the true complaint about any one store," he protested. "It could be a single language inspector filing all of these complaints."
"When you are brought before the court, you have a right to know who your accuser is," Schick asserted. "Everything that the OQLF does is top secret."
"We're now worried about Bill 14," he warned. "I employ more than 25 people. If Bill 14 is passed, we will only be able to employ 24, even if that means that we cannot grow."
Hundreds of customers flocked to Swiss Vienna Pastry and Delicatessen in Pointe Claire last week to photograph—and buy—pasta salad, after owner Harry Shick renamed it in honour of Quebec Premier Pauline Marois.
(function(i,s,o,g,r,a,m){i['GoogleAnalyticsObject']=r;i[r]=i[r]||function(){
(i[r].q=i[r].q||[]).push(arguments)},i[r].l=1*new Date();a=s.createElement(o),
m=s.getElementsByTagName(o)[0];a.async=1;a.src=g;m.parentNode.insertBefore(a,m)
})(window,document,'script','//www.google-analytics.com/analytics.js','ga');
ga('create', 'UA-45892555-1', 'robertfrankmedia.blogspot.com');
ga('send', 'pageview');