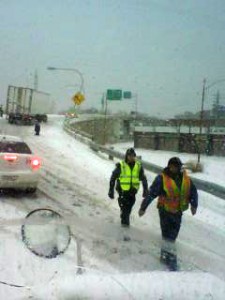 Allegedly used unauthorized, excessive force
By Robert Frank
The Quebec police ethics commission has charged Sgt. Patrice Bigras with three counts of violating the province's police code of ethics.
Montreal police officer 3380 stands accused of "taking action based on race, colour, ethnic or national origin" as well as "using greater force than necessary" and "unlawful use of force" when he arrested truck driver Narinder Singh Minhas in Pointe Claire, Nov. 23, 2011.
Minhas' 22-wheeler tractor-trailer rig was one of several vehicles that got stuck that morning when a blizzard and freezing rain blanketed the Sources boulevard overpass at Highway 20 in heavy snow and ice.
"A Pointe Claire Public Security officer politely asked me if I could get my vehicle towed," Minhas told The Suburban in an interview. "To do that, my dispatcher needed to fax a purchase order to the towing firm."
"I was on my Blackberry making those towing arrangements with the dispatcher when Sgt. Bigras banged really hard on the door of my truck. I rolled down my window, but he said 'No, no, I want you to come out.'"
"Once I stepped down to the ground, he asked me whether I wanted to have my truck towed or not. I told him that was what I was trying to do."
"I told him that I was talking to my dispatcher, Richard Bell, and he replied 'I don't give a shit about your boss.'"
"Then he grabbed me by the back of my collar and my left wrist and threw me down so that I fell on my left elbow and left knee."
"The blow dislocated my left shoulder and fractured my elbow so badly that I was off work for three months," Minhas recalled. "It hurt so badly that I cried out in pain and asked him why he threw me to the ground. At first, he gave no reply. The second time I asked, he looked at the other police officer and then said 'now we're going to arrest you.'"
"He put my face on the ground, grabbed my legs, twisted them, and then handcuffed my arms behind my back."
"Once I got up again, he shoved me against my truck and hurt my right thigh," Minhas continued. Then, he alleges, Sgt. Bigras added insult to injury. "As he took me to the police car, he punched me in the back of my head and knocked off my turban."
For adherents of Sikhism, removing a man's turban is a gross indignity.
"I asked the police officers to remove the handcuffs because my arm was swollen and hurting so badly, and to replace my turban, but they never did," complained Minhas, a devout Sikh.
He said that police held him in custody for more than two hours before they returned his turban and called for an ambulance to take him to Lakeshore General Hospital, to treat his broken elbow.
Sgt. Bigras charged Minhas with obstructing a police officer in the course of his duty, a criminal offence. However, Crown prosecutor Mercier Lamarche refused to accept the charges.
Minhas thought that was the end of his ordeal, but Sgt. Bigras took the unusual step charging Minhas again with the same offence. This time, Sgt. Bigras added another charge of criminal mischief to his allegations against Minhas, "for denying the legitimate use of a good, namely Sources Boulevard."
Minhas explained that authorities are alleging that the mischief occurred because the vehicle wasn't in proper working condition. However, he said that Pointe Claire Public Security acknowledged that the bridge had not been salted or plowed, and provided The Suburban with photos he took with his Blackberry smartphone of several nearby vehicles that were similarly stuck.
"I've never heard of such a story in my 12 years in the industry," Association du camionnage du Québec president Marc Cadieux told The Suburban in an interview. "We will have to see what evidence is presented in court, but if the road was indeed slippery, the road unplowed, the truck paralyzed by the weather and the truck driver exercised reasonable diligence, I don't see how a judge would convict someone."
Mouvement Action Justice wrote to Police Station 5 commander on Minhas' behalf, more than a year ago.
"We never received a reply to our complaint," Minhas said. "However the Quebec crime victims fund compensated me for the three months that I was off work, because of the injury."
Minhas added that his dispatcher overheard his exchange of words with Sgt. Bigras, because Minhas didn't hang up his cell phone when he exited his vehicle. In addition, he said, bystanders on the overpass witnessed the blow that removed his turban.
The outcome both of the breach of ethics charges against Sgt. Bigras as well as the criminal charges against Minhas remain to be decided upon by the respective tribunals.
"When we met with Sgt. Bigras and his lawyer in June, they offered me money to settle the matter out of court and to keep the details of what happened confidential," Minhas recounted. "His union representative said that he was just doing his duty."
"I declined," he said. "I want a written apology."
"There was no need for him to do what he did. Had my turban come off while he was trying to handcuff me, I could have understood it. But nothing was happening when he struck me and knocked it off, because I was not trying to resist."
"If you have seen the YouTube video of [Montreal police] Const. Stéphanie Trudeau, officer 728, that was nothing compared to what happened to me that day," Minhas concluded.
A view from the cab of Narinder Singh Minhas' tractor-trailer truck shows Pointe Claire public safety and police officers trying to deal with another truck, cars stuck in heavy snow and ice climbing the Sources boulevard overpass at Highway 20, around 8 a.m., Nov. 23, 2011. Montreal police Sgt. Patrice Bigras has charged Minhas with criminal mischief for "denying the legitimate use of a good, namely Sources Boulevard."
Narinder Singh Minhas has lost 10 percent of the extension and five percent of the flexibility of his left elbow.
(function(i,s,o,g,r,a,m){i['GoogleAnalyticsObject']=r;i[r]=i[r]||function(){
(i[r].q=i[r].q||[]).push(arguments)},i[r].l=1*new Date();a=s.createElement(o),
m=s.getElementsByTagName(o)[0];a.async=1;a.src=g;m.parentNode.insertBefore(a,m)
})(window,document,'script','//www.google-analytics.com/analytics.js','ga');
ga('create', 'UA-45892555-1', 'robertfrankmedia.blogspot.com');
ga('send', 'pageview');